Local entrepreneur Rick Peters is a devoted Indianapolis Colts fan, but he jumped out of his living room recliner on the evening of Nov. 13 when he saw an ESPN report on Denver Broncos quarterback Peyton Manning's bad ankle.

Manning hurt the ankle in a loss—ironically at Indianapolis—on Oct. 20 and had aggravated it so badly in the subsequent two games that there were whispers the future Hall-of-Famer might miss the Nov. 17 game against division rival Kansas City.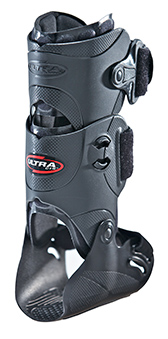 Broncos quarterback Peyton Manning's hopes for finishing out the season may rest with Carmel entrepreneur Rick Peters' latest invention, the $119.95 Ultra Ankle CTS. (Photo courtesy of Ultra Athlete LLC)
Standing in front of his television, Peters, founder of Carmel-based Ultra Athlete LLC—a small manufacturing firm with a growing reputation for state-of-the-art ankle braces—figured he could do for Manning what he had done for numerous athletes before.

So the next morning, a Thursday, Peters took one of his company's newest ankle braces, the Ultra CTS—which had just hit the market in January—and popped it in a FedEx box to Denver's head trainer without so much as a phone call.

The CTS, Peters said, was perfect for Manning's high ankle sprain. Not only does it extend high up on the ankle, it is designed to be lighter and less bulky while at the same time offering more support than other braces, Peters explained, adding that the user's body heat molds the specially developed resin to the leg and foot.

"It offers support, but also allows an athlete to retain his mobility, and that's key," Peters said. "Once it molds to your lower leg, it's very comfortable."

Peters figured his brace would arrive in Denver on Friday, just in time for Manning, a former Colt, to give it a two-day test spin before Sunday's crucial game.
Peters
That Sunday, when NBC's cameras zoomed in on Manning's lower leg, Peters immediately noticed his newest creation, made especially for acute injuries, nestled around Manning's right ankle and wrapped under a layer of athletic tape.

It was sweet satisfaction for the 53-year-old inventor who's spent the last 30 years designing and developing ankle braces.

"It's strong validation for all the hard work and the thousands and thousands of decisions you have to make during design and development," Peters said. "To see one of the greatest athletes on one of the world's biggest stages wearing your product is pretty fulfilling."

Manning also wore the brace in Denver's matchup at New England on Nov. 24. Peters thinks his invention could have a profound impact on the Broncos' season.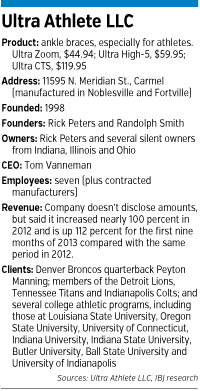 "I know that injury," said Peters, an Indiana State University graduate and a certified athletic trainer. "I don't think he could have played without that brace."

While Peters was thrilled Manning chose to use the unsolicited gift from Ultra Athlete, he wasn't necessarily surprised.

"That's what we do. We help athletes—from youth to pro—prevent, recover from and play through ankle injuries," Peters said. "So why not Peyton Manning?"

Recent sales for Peters' 15-year-old company seem to back up his claims.

Ultra Athlete's sales nearly doubled in 2012 and are up 112 percent through the first nine months of this year compared to the same period a year ago. More than 80 percent of the company's sales are to athletes, with the other part sold strictly for medical use.

Hoosier heritage

Not only are Ultra Athlete's products designed and developed in Carmel, the injection molding for the plastic shells are done at Noblesville-based Metro Plastics Technologies Inc. and they are manufactured by Fortville-based Genesis Plastics Welding.

"Making the product locally helps us better handle quality control," Peters said. "Supporting other Indiana companies also feels like the right thing to do."

Peters' passion for addressing ankle issues goes back to his days as a student trainer at ISU in the early 1980s.

"I saw that ankle injuries were one of the most common problems for all athletes," Peters said. "The old lace-up ankle braces were such an old technology and, a lot of times, they were simply ineffective."

Working with a Terre Haute area high school as part of an ISU class, Peters used a jigsaw to fashion his first ankle brace from parts of a McDonald's food tray and other items commonly found in a training room.

Peters patented his first ankle brace in 1984, revolutionizing the industry by adding a hinge to traditional stirrup braces for greater mobility. In 1989, he founded Active Ankle Systems.

"The ankle brace technology basically hadn't changed for 100 years," said Ned Shannon, University of Indianapolis head athletic trainer. "Rick changed all that. He moved the ankle brace ahead light years. His products allow athletes who would otherwise be sidelined to get back in the game."

Peters, who now holds 18 patents, left Active Ankle in 1996 because he said investors behind the operation wanted to diversify into other types of braces and products. Active Ankle Systems, which is now owned by Kansas-based Cramer Products Inc., remains a market leader in braces.

In 1998, Peters founded Athlete Protection Gear LLC, which changed its name to Ultra Athlete LLC in 2001 and began marketing products under the Ultra Ankle brand. Peters buried himself in research and development for several years.

Slowly, he built a mostly Midwestern distribution network and began to gain a following with athletes from the grass-roots level to major colleges and even some professionals. His customer base grew to include athletes from almost every Indiana college and high-profile national programs such as the Louisiana State University football team and the University of Connecticut women's basketball team.

On the professional level, members of the Tennessee Titans and Indianapolis Colts began to use Ultra Ankle products. Last year, Detroit Lions quarterback Matthew Stafford donned one of Peters' braces.

"I never know where they're going to turn up," Peters said. "Peyton Manning is our most high-profile user so far. LeBron James hasn't used our brace—yet."

Positioned for growth

While the company has begun to score more high-profile clients and exposure, there also have been changes behind the scenes. In November 2012, the company brought in a handful of new investors from Indiana, Ohio and Illinois. Company officials declined to say how much has been raised. Several employees were added, bulking the staff up to seven (not including outsourced manufacturing) with plans to double to 14 in the next year.

Notably, Tom Vanneman, 57, was hired last year as CEO. Vanneman had been partner in Volatus Advisors LLC, an investment group that invested in and advised dozens of tech firms such as Aprimo, Autobase, BidPal, Indigo BioSystems, Patronpath LLC and WebLink. Vanneman is a serial entrepreneur who has assisted several successful early-stage private and public companies, including Acordia, Software Artistry and Escient Technologies.

Vanneman said his top priorities are to develop distribution channels on the East and West coasts and help grow the staff. He thinks if he can achieve his objectives, Ultra Athlete sales could increase up to 110 percent in 2014.

Ultra Athlete's products are currently sold through three channels: catalogs, the company's website and distributors who sell directly to teams. Mass retailers do not sell the products, Vanneman said, because they would want a lower wholesale price than is possible. As sales ramp up, though, that could become a possibility.

Ultra Athlete markets three models: the Ultra Zoom, which is made for prevention and sells for $44.95; the Ultra High-5, which is for chronic ankle instability and recovering athletes and sells for $59.95; and the Ultra CTS, which sells for $119.95. After only 10 months on the market, the CTS—the brace Manning is using—already accounts for 25 percent of the firm's revenue this year.

The annual U.S. market for ankle braces is $300 million—and the world market is double that, according to Maryland-based research firm Frost & Sullivan. The ankle-brace product category ranks second only to knee bracing in overall annual revenue and is the second-fastest-growing product in the brace category in the United States—4.8 percent annually—behind only neck and back braces, according to Frost & Sullivan.

Though Peters and Vanneman declined to divulge the company's revenue, they said they expect Ultra Athlete to have at least 3 percent of the U.S. ankle brace market share by 2016. Using Frost & Sullivan's projections, 3 percent of the U.S. market in 2016 would be $10 million.

"The company is just now gaining the bandwidth needed to properly promote its products," Vanneman said. "Now that we have the pieces in place, we're confident sales will really take off."•