HONOREE, Public Companies
If Lincoln Financial hadn't moved, Fred Crawford might have come to Indiana sooner. He joined that company in 2001—just after it uprooted from Fort Wayne and moved to Philadelphia.
Instead, it was 2012 before the Illinois native—son of venerable Chicago newsman Bob Crawford—would find himself settling here. That's when CNO Financial Group attracted him.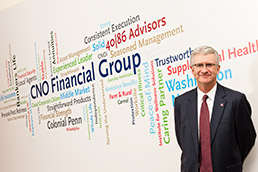 (IBJ Photo/Eric Learned)
Age: 50
Family: wife, Priscilla; children Lauren, 21, and Matthew, 18
Hometown: Barrington, Ill.
Education: bachelor's, Indiana State University; MBA, University of Iowa
Civic involvement: on finance committee of United Way of Central Indiana after serving as finance committee chairman and treasurer for United Way of Greater Philadelphia; on finance board of the University of Iowa School of Business, and supporter of the Iowa track and field program (having coached there during graduate school) and member of Iowa's Tippie School of Business Finance Department Advisory Board
Hobbies: biking, golfing, visiting family cabin in Minnesota
"At the time, I knew what most knew about CNO," Crawford said. "I knew it as Conseco, the company that went through so much drama. Unfortunately for people—for me—I hadn't kept pace with what was going on at the company."
When he looked, Crawford was impressed with what he found.
"One thing nice about being a sitting CFO when studying up on a company is that you can read between the lines," he said. "I could see the chess moves and base hits that made things happen. It was the kind of decision-making and board management that really impressed me. And it added up to something significant."
Crawford saw this as a chance to roll up his sleeves and get involved. "I had been someone who took on repair jobs. Now it was time to advance the ball."
While his time at CNO has been short, his results are already impressive. The stock price has more than doubled in the past 20 months. (Yes, there's been growth in the industry, but that's closer to 18 percent.) He oversaw the early retirement of debt that led to a stock dividend. Ratings upgrades—including two from Standard and Poor's within three months—speak to satisfaction inside and outside the company.
"You don't come into a company and wave a magic wand," Crawford said. "An awful lot of good things were already taking place. When I came on board, it was time to exploit many of those good decisions."
His initial strategy involved communicating carefully with investors, getting some positive energy from ratings agencies, and working closely with the board. Since then, it's been broadening the investor base.
"When midsize financial agencies tend to attract shorter-term and hedge-fund-type investors, we needed a broader and more traditional range of investors on the bond and stock side," Crawford said. "We've been busy doing that, continuing to get upgrades as our performance improves."
He's also focused on putting in protections against the next financial crisis when and if it happens.
"It's very typical for companies going through challenges to not be able to lift up their heads to look past the current crisis. Fortunately, CNO has rebuilt its financial position. Now we can boldly invest the capital to grow the business. It's a different kind of decision-making."
"As a CFO of a large company, most decisions don't get to you until it's highly complex and highly impactful on the company," Crawford said. "Being able to sift through the complexity and make a good judgment call, to me, is the difference-maker. That's something I spend quite a bit of time on. What's the right call here?"•
Please enable JavaScript to view this content.