HONOREE, Not-for-Profit
"Indiana Members Credit Union was a client," said Todd Habig who worked as an accountant at Geo. S. Olive & Co. "I knew it was a great group from auditing them."
That was 27 years ago. What was a credit union with 35,000 members became one with 111,000 members. Eight branches became 24. And $107 million in assets turned into $1.4 billion. The billion line was crossed in 2008.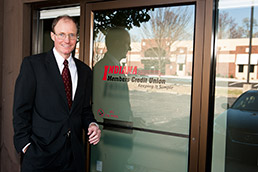 (IBJ Photo/Eric Learned)
Age: 52
Family: wife, Lara; sons Daniel, 20, and Tyler, 18
Hometown: Avon, Ind.
Education: bachelor's, Butler University College of Business Administration
Civic involvement: volunteer with BackPack Attack through Indiana Members Foundation, active at Crossroads Church of Avon, chaperone for Avon High School Marching Band on its trip to 2012 Rose Bowl
Hobbies: basketball, golf, travel
Habig, now CFO and senior vice president, helped create IMCU's branch accounting system in 1986 and has been involved in 31 mergers.
"That sounds like a lot," said Habig modestly, "but most were small. And in every case but one, we were approached."
While it's up to the CEO to show the merging credit union all that IMCU has to offer, it's Habig's job to make sure the two computer systems align and the members of the merging credit unions are happy, and to take care of all notifications.
"I'm the detail-oriented guy," he said. "I lead the merger process after the paperwork is signed."
His strategy is to think for the future more than today.
"Rates in the marketplace have been at historic lows for quite an extended period of time and there's only one way that they can go. We just don't know when it's going to happen. We made sure, though, that we are ready for when they do.
"To do that, you have to sacrifice the current earnings a little bit, but we have chosen to make those sacrifices for when the rates do go up. It takes discipline and patience, and I give big credit to our board for their leadership in that regard."
Again, modest.
Two of the most important measurements for a financial institution are its net worth ratio and its return on assets.
"Our net worth ratio has been so consistent even through the tough, tough recession," he said. "We have a reputation for being stable and solid. That makes me really happy and outsiders are very impressed with that.
"I always say, 'Keep it simple' and we've always done that with investments. We do things that we understand. So we haven't had any of the big fluctuations."
If all of this leads one to believe Habig is some dry accountant, well, you just haven't seen him at a retirement party.
"Some people say I'm like Jekyll and Hyde," he said. "I want to prove my worth to the organization every day. That's just the way I'm wired. But when somebody retires, I'm the guy writing the parody songs. And since nobody will sing my songs, I have to. I don't hesitate to embarrass myself. I can be open for that craziness … with zero alcohol involved."•
 
Please enable JavaScript to view this content.