The affordable-housing market has been good to Joe Whitsett. So good that it's helped him build his construction and development firm into a $30 million operation within a mere six years.
But now the 54-year-old founder of TWG Development LLC, formerly known as The Whitsett Group, is veering into new territory with plans to build more market-rate projects.
The difference: Market-rate projects don't rely on federal tax credits to finance construction, and they charge rents based on economics rather than incomes.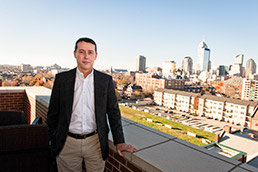 Joe Whitsett has completed 26 apartment projects since founding his company in 2007. (IBJ Photo/Eric Learned)
"The best thing for us is diversification," Whitsett said. "It's just healthy for our company, if anything ever happens to the [affordable housing] program."
TWG's first foray into the market-rate sector is 333 Penn Apartments, a rehab of the downtown American Building that it and Ambrose Property Group converted to 79 units that opened Dec. 1.
It's the only one of Whitsett's 26 projects that is not affordable housing.
Next up is a renovation of the vacant Consolidated Building, another partnership with Ambrose, and a redevelopment of the Indianapolis Star headquarters property, both on North Pennsylvania Street. The projects will add 600 market-rate apartments to downtown.
Whitsett's plans also call for the company to expand outside Indiana by entering such markets as Louisville, Cincinnati and perhaps a few cities in Michigan. The company had a property under contract in Louisville, but the deal fell through.
Heck, TWG is even considering jumping into the office and warehouse sectors, though that work would entail only a small percentage of the firm's portfolio.
Not bad for the native south-sider who's an attorney by trade.
"He was the foremost tax-credit real-estate lawyer in the state," said George Tikijian of apartment brokerage Tikijian Associates. "He was the go-to guy."
Whitsett grew up near East Southport Road and South Meridian Street and graduated from the private Roncalli High School.
His father was a draftsman at Eli Lilly and Co. who started after World War II helping design buildings and research facilities.
Not even Whitsett himself knows what drew him to the legal profession. All he recalls is that by age 8 he was telling everyone of his plans.
"I didn't know anyone who was a lawyer," he said. "For some reason, it was what I wanted to do as a kid."

He didn't disappoint. Whitsett earned his law degree from the Indiana University School of Law in Indianapolis in 1985 after completing his undergrad studies in accounting.
He went to work at the former Ernst & Whinney, the predecessor to the Ernst & Young LLP accounting firm, and stayed six years, until 1991. His next stop, at the tax practice in law firm Ice Miller LLP, is where he honed his affordable-housing skills.
The Tax Reform Act of 1986, then the most sweeping change to the tax law in 50 years, ushered in the privatization of government-subsidized housing. Recognizing the importance of the program, Bruce Cordingley, an Ice Miller lawyer at the time, started a tax-credit practice at the firm.
Cordingley left to help start Pedcor Cos., which would become the leading tax-credit developer in the state. Another Ice Miller lawyer, Phil Stoffregen, followed him to Pedcor, and the company went on to develop the Indiana Design Center and City Center that have helped transform Carmel's downtown.
Whitsett assumed Stoffregen's tax-credit practice and ultimately also landed at Pedcor, in 2006. A year later, he and stepson Tony Knoble, who also was at Pedcor, left to launch TWG.
Knoble and his sister, Anna Barabas, are the children of Whitsett's wife, Julie, whom he met on a blind date while at Ernst & Whinney. Just five months later, they married.
Blind dates are "probably a recipe for disaster, but it's worked out perfectly," Whitsett said, laughing.
Knoble, Barabas and the Whitsetts' daughter, Elizabeth Whitsett, all are partners of TWG, though Elizabeth, a nurse, is not involved in daily operations.
With that many family members involved, feuds are bound to break out.
"We butt heads, but it's good," said Knoble, noting that he's the more aggressive one. "There are those father-son blowups that happen, but we work through it."
Outside of work, Whitsett enjoys restoring pre-World War II Chris Craft-style speedboats that he keeps at a home in Michigan. In Indianapolis, the Whitsetts reside in the Brendonwood neighborhood on the northeast side in a home built in the 1920s.
Whitsett's affinity for historic homes and buildings has led his company to redevelop eight older structures into affordable-housing units.
Perhaps the most visible is the former Litho Press building, which is receiving a $16 million rehab from TWG and Ambrose. The project, known simply as 800 North Capitol Apartments, should be completed by the end of the year and will include a mix of 111 affordable and market-rate units.
But with older buildings come more challenges. The structural concrete of the Litho building started coming apart during the renovation, costing the companies an additional $1.1 million in overruns, Whitsett said.
But low-income housing projects also can be lucrative for developers.
The Indiana Housing and Community Development Authority administers the federal program that awards tax credits to developers to renovate, acquire or construct affordable rental units. A dollar-for-dollar credit provides an incentive for private developers and investors to provide low-income housing. By reducing a developer's federal tax liability, or by selling tax credits to investors, the program can cut the cost of development.
Developers can charge fees of up to 15 percent of the total cost of a project to investors buying the tax credits. Most investors now are banks that benefit from a yield on the credits.
The state will award the next round of tax credits in February. Last year, just 14 of 67, or 21 percent, of applicants in Indiana received the credits.
"It's very competitive," said Michael Wernke, who heads Colliers Indiana region's multi-family housing division. "You've almost got to have an impeccable application and procedures in place."
TWG has built up enough equity from the affordable-housing program to begin developing market-rate projects, Whitsett said.
To help with the expansion, Whitsett in May brought on Dennis Dye, a well-known executive at Browning Investments Inc. who worked with him at Ernst & Whinney. Dye also is a partner in TWG.
"I felt like I had the chance to sink my teeth into some new projects," Dye said. "It's been a comfortable move."
Dye will help secure financing for market-rate developments and could assist on any office or warehouse projects.
But TWG is not about to abandon its bread-and-butter affordable-housing business. It's seeking credits for a senior-housing redevelopment of an abandoned building at 1352 N. Illinois St.
And for those who insist the federal program is nothing more than a get-rich-quick scheme for greedy developers, Whitsett begs to differ.
"It's a good way to get rich slowly," he said.•
Please enable JavaScript to view this content.