Indiana Pacers owner Herb Simon is advising and could become a future investor in a consortium that is raising a $100 million equity fund with the intent to buy up to seven minor-league baseball teams.
The group led by New York restaurateurs and real estate developers Jerry and Stuart Katzoff already has raised $25 million and on Dec. 3 closed on a deal to buy the single-A Bowling Green (Ky.) Hot Rods. Sources with knowledge of the deal said the price for the farm club of the Tampa Bay Rays was $8.5 million.
Simon and the Katzoffs together own the Reno Aces and the $50 million Reno, Nevada, venue the team plays in.
Per Minor League Baseball rules, teams are allowed to borrow 45 percent of their value, which means the group could borrow $45 million on its $100 million fund, and Stuart Katzoff thinks that will be enough to acquire the desired portfolio of teams.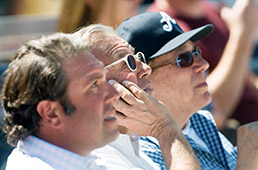 Stuart (left) and Jerry Katzoff (center) are hoping the consortium they've formed with Herb Simon (right) proves lucrative. (Photo courtesy of Stuart Katzoff)
"Minor-league baseball is a great formula because the players' salaries are paid for by the major-league parent team," he said. "And for cities like Reno, these teams are a real asset."
If Simon decides to invest, the shopping mall magnate and chairman emeritus of Simon Property Group Inc. has plenty to put in play.
Simon, 79, ranks No. 293 on this year's Forbes 400 list, with a reported net worth of $1.95 billion. Simon and his brother, Mel, bought the Pacers in 1983 for $10 million. Mel Simon died in 2009 and, according to Forbes, the NBA franchise is now worth $383 million.
Simon said his role with the baseball group is as an adviser, not day-to-day operations.
"Herb has already navigated all the things we're facing or could face with this," said Stuart Katzoff, who is Jerry's son. "With his background with the Pacers, with public-private partnerships and in retail, he's the best partner we could have."
If the effort works, the group will score the second large-scale roll-up in minor-league baseball.
Forty-year-old Stuart Katzoff, managing partner for the consortium, had his first career in law—briefly working for well-known trial lawyer F. Lee Bailey—followed by a stint at Lehman Brothers selling institutional assets before developing everything from high-priced condominiums in Lower Manhattan to a hotel in Dallas.
He and his father also own a chain of 14 high-end Italian restaurants, operating under the Il Mulino moniker. He said he owes much of what he's accomplished in business to lessons learned from Simon.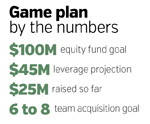 "He's an expert on how to get things done," Stuart Katzoff said. "Every time I meet him, I learn a ton. He's examined so many business opportunities, he's a tremendous resource. I've learned more from Herb than I have in all my undergraduate classes, law school and all of that."
The Katzoffs have attracted some heavy-hitters to their new firm, New York-based Manhattan Capital LLC. In addition to Simon, the group has recruited as advisory board members Derrick Hall, president of Major League Baseball's Arizona Diamondbacks; Jon Orszag and Doug Band, both former advisers to President Bill Clinton; and Gary Weinstein, the former chief operating officer of Rhode Island-based Providence Equity Partners LLC.
Stuart Katzoff said Simon and his father own homes near each other in Montecito, Calif.
"Herb has been a trusted friend and adviser of the family for a long, long time," Katzoff said.
Targeting the Indians?
The Katzoffs aren't tipping their hand on which teams they might pursue. Per minor-league baseball rules, they can't own more than one team in a single league. Since the Aces are in the AAA Pacific League, the group could go after the Indianapolis Indians, which play in the AAA International League and are a farm club of MLB's Pittsburgh Pirates.
Jerry and Stuart Katzoff know the Indians organization well. When the father-son duo and Simon were buying the Tucson Sidewinders in 2007—which they later moved to Reno—they visited Indians Chairman Max Schumacher to get advice.
"All I'm going to say is that I love everything Max does," Stuart Katzoff said. "Anyone in their right mind would love to own the Indianapolis team."
The Indians have turned a profit, regularly in the seven figures, for 38 straight years. But the younger Katzoff said he has no intention of trying to buy the Indians without the blessing of Schumacher, who owns more than 40 percent of the team.
"With Herb as our partner and friend and with his connection to the community there, owning the Indians would be great," Katzoff said. "But I respect Max too much … We wouldn't do anything unless he was willing to sell."
Schumacher said the Indians aren't for sale.
"We've had a very successful operation in Indianapolis the way it's been owned and run and all our surveys with our shareholders indicate they want to continue with the current structure," he said.
Problematic price increases
The only other group to attempt to roll up minor-league baseball franchises is Los Angeles-based Mandalay Baseball Properties, which owns four teams and has a half interest in a fifth.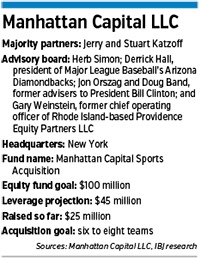 Mandalay has proven that a portfolio of minor-league ball clubs can be major-league lucrative. The five teams Mandalay has a stake in are projected to generate more than $40 million in revenue this year, according to company officials.
"We're not doing this as a hobby," said Katzoff, a self-described life-long baseball fan. "We're doing this as a business with a return in mind."
The group is expecting an 8-percent return on its cash investment and a 12-percent to 15-percent return when factoring in predicted debt, he added.
Robert Briles, vice president of David A. Noyes & Co., a local investment firm that has brokered Indians stock, said the Katzoffs' plan is solid. But they may run into one problem.
The value of minor-league teams has increased dramatically since Mandalay started its roll-up more than a decade ago, Briles said. The Indians, whose stock is thinly traded on NASDAQ's Pink Sheets, has a $25 million valuation. Some think that's on the low end of the franchise's value, Briles added.
"A lot of these teams have become a real business, and that's pushed the price up in recent years," he said. "The choice teams will come with a significant price tag."
The other alternative, Briles said, is for the group to go after lesser organizations and turn them around.
Turnaround success
The Katzoffs and Simon already have shown what they can do with a struggling minor-league baseball team.
In the seven years since they bought the Aces, the club has doubled its cash-flow-based valuation to $30 million, sources said. The Aces' owners spearheaded construction of a 10,000-seat ballpark in downtown Reno and several surrounding commercial developments.
A big chunk of the valuation increase can be attributed to government incentives: The city of Reno agreed to dole out $30 million over 30 years for the ballpark project in exchange for a promise to keep the team in Reno, according to local media reports.
"The Aces, the actual baseball team, is doing well," Simon said. "The property has some debt we need to resolve, but I'm confident we'll get there."
Katzoff said his group can make minor-league teams in their portfolio more profitable by combining some front-office operations, enacting group purchasing, and selling ads and sponsorships across all its teams.
"In Reno, we took one of the worst teams and turned it into one of the best teams on and off the field," he said. "We think we can take the lessons learned there, create some real synergies with our other teams, and develop a championship business model."•
Please enable JavaScript to view this content.