Poised for a development boom in those heady days before the real estate market collapsed, Westfield appears back on track for growth.
Residential activity never stopped, but builders are picking up the pace in response to increasing demand. If history holds true, a commercial construction blitz will come next.
"Rooftops are what cause commercial land to be developed," said developer Beau Wilfong. "I'm really excited about the future."
His family's Wilfong Land Cos. is moving forward with plans for Spring Mill Trails, a 900-acre mixed-use development north of State Road 32 between Spring Mill Road and Eagletown Road. Originally proposed in 2007 as Eagletown of Westfield, the project broke ground last year.
On the west side of Casey Road, M/I Homes has started building 105 single-family homes in Water's Edge at Spring Mill Trails. Across the street, Arbor Homes is working on a neighborhood it's calling Spring Orchard.
Indianapolis-based Herman & Kittle Properties is planning Casey Acres, a 244-unit apartment complex just south of those properties, and Wilfong said another multifamily developer expects to submit plans to the city early next year.
Wilfong also is working on a pair of commercial projects along State Road 32: Oak Ridge Pointe, on either side of the highway at Oakridge Road, and Springmill Pointe south of 32 and east of Spring Mill Road.
Plans call for a Speedway gas station/convenience store to be built at Oakridge—replacing one displaced by nearby U.S. 31 construction—and Wilfong said he's in talks with two other potential retail users there. Tractor Supply Co., meanwhile, has proposed a store on 3.6 acres in Springmill Pointe.
"It looks like things are beginning to happen," Wilfong said.
Indeed, several factors are contributing to the escalating activity: The real estate market is recovering. The state's long-awaited transformation of U.S. 31 to a limited-access highway is under way, making Westfield more accessible. And the city's massive Grand Park Sports Complex is a mere months away from drawing an estimated million-plus youth sports fans to the area each year.
Although commercial development takes time, observers said Westfield is uniquely positioned for growth because of the pre-recession false start. Land already has been zoned. Utilities are in place. Infrastructure upgrades are in the works.
"What should have occurred in '08 is finally starting now," said Wayne Timberman, a longtime independent broker who is marketing land along State Road 32 for Wilfong and another property owner.
Wilfong, who sold some of the original Eagletown land to the city for Grand Park, called the 400-acre youth-sports complex "an incredible drawing card" for all kinds of development. Home builders want to be nearby, he said, and the traffic the park is expected to generate will almost certainly draw business.
As IBJ's North of 96th blog reported last month, construction is expected to start this spring on the first retail building in Henke Development Group's Grand Park Village, a commercial hub to the south.

Cook
Fast-food chains are lining up spots near the park's southern entryway at State Road 32 and Wheeler Road. A Taco Bell opened there this fall, and McDonald's and Dairy Queen have signed on, said broker Brad Henke. A Subway restaurant and liquor store also are planned, Mayor Andy Cook said.
Taco Bell and McDonald's also were forced by the U.S. 31 project to relocate, but longtime broker Craig Kaiser expects the "replacement" development to be bolstered by more commercial development once the park opens and the highway construction is complete.
"There's quite a lot of interest," said Kaiser, whose Kaiser Land Co. has several Westfield listings. "Grand Park is really going to spur activity in that area."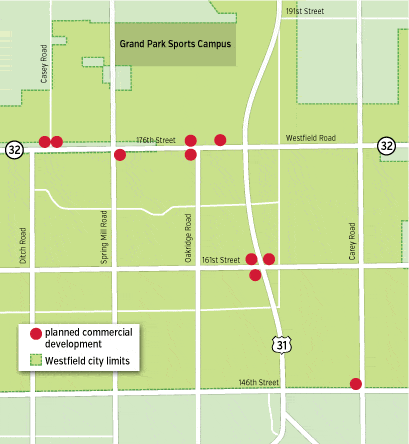 The U.S. 31 overhaul also should drive development, particularly along the handful of interchanges. Observers expect 161st Street to be another commercial hub.
Kaiser has two properties at or near that intersection listed for sale: 20 acres on the southeast corner (owned by Henke and partners) for $8.7 million and about 10 acres to the northwest (owned by the Indianapolis Hebrew Congregation) for $1.3 million.
About 63 acres in the northeast quadrant—dubbed Lantern Commons—hit the market in September. Proposed in 2007 by Illinois-based Pine Tree Commercial Realty, the upscale retail project never got off the ground.
Listing agent Bill French of Cassidy Turley said a handful of potential buyers submitted proposals for the property, which was not priced.
"We had very strong interest, and we're choosing the next steps," he said. "It's a well-positioned piece of real estate now that the overpass work is complete."
Timberman, the independent broker, said he expects a smaller, more neighborhood-oriented development to emerge at the site, once envisioned as a rival to Clay Terrace. Kaiser, meanwhile, predicts the area will draw retailers north from Meridian and 146th Street, an area he called "a congested mess."
Mayor Cook acknowledges the Lantern Commons plans likely will be revised before development can occur. The high-end architectural and landscaping standards that made sense when Macy's was going to be an anchor tenant now are a drawback, he said.
"No upscale retailers are developing this kind of project these days," he said.
Still, he said the "very prime" location should be a selling point. Westfield's land-use plan, adopted in 2008, calls for limited retail along U.S. 31. City leaders envision the highway developing as an employment corridor, and the 161st Street interchange is the only undeveloped retail node along the route.
"We didn't want 31 to be a retail strip center," Cook said. "The key is managing growth well. It's very hard to say 'no,' but we want quality development, not urban sprawl."•
Please enable JavaScript to view this content.