Tim Solso was looking to scale back board commitments, not increase them, after wrapping up a spectacular run as chairman and CEO of Cummins Inc. and retiring in 2011.
But when Patricia Russo, General Motors' lead director, called late that year and asked him to have dinner with CEO Dan Akerson, he agreed. When the men dined the following March at the company's Renaissance Center headquarters, Solso found Akerson so impressive—and so determined to turn around the iconic American automaker—that he was ready to join the board.

Solso
Now, 18 months after becoming a director, Solso is preparing to slide into a much bigger job in January—non-executive chairman of the Detroit company. In addition to managing the 14-person board and helping set strategy, he'll be a mentor and coach to new GM CEO Mary Barra, the first woman to ascend to the top job at a major auto company.
It is perhaps a fitting role for the Indianapolis resident, who was lauded for championing diversity during his 40-year career with the Columbus-based diesel-engine manufacturer. But it is wholly unexpected, triggered by Akerson's recent decision to step down as chairman and CEO to care for his wife, who has been diagnosed with an advanced stage of cancer.
Akerson broached the idea of Solso's accepting the chairmanship on Dec. 5, just five days before GM announced his appointment and the selection of Barra as CEO and Dan Ammann as president.
In an interview with IBJ—his first public comments since accepting the post—Solso admitted that the turn of events was a bit jarring.
"I was pretty comfortable with what I was doing and with the balance I had in my life," said Solso, 66. "My first reaction was, this kind of change is not balanced."
But as he pondered whether to accept, he concluded that his experience at Cummins, including 12 years as chairman, made him uniquely suited among GM's board members to become chairman.
"I think it was the realization that I thought I really could help the company," Solso said. "I always have been a person who, if I feel I can add value and make a difference in a positive way, it is hard for me to say no."
The appointment is winning universal praise from analysts and auto industry insiders.
While Akerson, a private equity investor, had been both chairman and CEO of GM, he acknowledged during a Dec. 10 conference call with reporters that juggling both positions had been too much.
"Candidly, it was very hard to manage board issues as the chairman and at the same time really attend to what needed to be done," he said on the call.
Serving in both roles would have been especially tricky for Barra, given she is a 33-year GM veteran without experience running a corporate board, said David Cole, chairman emeritus of the Center for Automotive Research in Ann Arbor, Mich.
Solso also brings to the table a deep understanding of the auto industry and how to run a complex, global manufacturing business, Cole said.
Another strength is Solso's people skills, friends and business associates say.
"He has a sense of calm about him that I think will be very much appreciated by the many constituencies GM deals with in the course of its business," said Harry Gonso, a partner with Ice Miller, which provides outside counsel to Cummins.
Added Joe Loughery, who retired as Cummins' president in 2009 after 35 years at the company: "He is very genuine, very straight. He is not pulling any punches. He is not in one room saying 'X' to someone, and then going to another room and saying 'Y' to someone else."
It doesn't hurt that the investment community swoons over Solso, thanks to the growth and profits Cummins racked up under his watch. During Solso's 12 years as CEO, Cummins' sales doubled and its stock price rose nearly tenfold.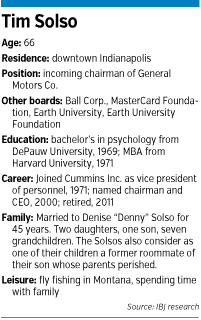 Yet that journey included trying times, especially during the early years—adversity that analysts believe Solso can draw on as he helps GM increase its U.S. market share and capitalize on growth opportunities in emerging markets like China and Brazil.
When the 2001 recession hit, Cummins faced a host of problems, including too much debt, forcing executives to slash costs and scramble for cash. Solso later described the odyssey as "personally frightening."
Getting the financial house in order was just the start of a decade-long transformation marked by huge improvements in product quality and breakout performance in developing countries around the world.
Solso said one of the attractions of joining the GM board was that "they had many challenges, and a lot of the things they were experiencing I went through at Cummins."
Analysts say GM is on the upswing after receiving a $49.5 billion government bailout and filing for Chapter 11 bankruptcy in 2009. The company has since shed debt, reduced labor costs and narrowed its focus to its strongest brands.
The Treasury Department this month sold its final share of GM stock, freeing the company of the derisive "Government Motors" moniker. The government unloaded its shares as the U.S. auto industry racks up its fastest sales growth since 2007.
Still, Solso said GM is just getting started.
"I would say they have made a lot of progress in four years, and they have to keep the same pace of progress to reach the financial goals they aspire to," he said.
"You go from fighting fires to long-term change, and they are close to being done fighting fires. They are close to figuring what is the best strategy in various parts of the world to reach their targeted goals."
Solso and his wife, Denny, who live in a condominium at The Conrad Indianapolis downtown, do not plan to move to Detroit. He said he doesn't know how much time the chairmanship will require but realizes the role will be demanding, especially in the first six months.
"I am prepared to spend as much time as it takes," he said.
GM has not yet disclosed the compensation for Solso, who starts as chairman Jan. 15.
Those who worked with Solso at Cummins say his GM colleagues will find out quickly where they stand with their new chairman.
At Cummins, "He was very direct," said former Chief Financial Officer Jean Blackwell. "It could drive the communications folks crazy. He was not a scripted guy. Whether he was talking to employees or analysts, he would say what was on his mind."
Blackwell said Solso mentored her during much of her 16-year career with the company. But that didn't mean all his advice was soothing and sweet.
"I remember my first presentation as CFO to the board," she said. "Afterward, he came in, shut the door, and said, 'That wasn't very good. I know you can do better. Let's think about what went wrong and how you can change it.'"
In a research report, Morgan Stanley analyst Adam Jones called Solso highly regarded and said he thinks the company is taking a step up with its new leadership team.
But GM remains far from achieving its full potential, he said, and numerous challenges loom.
"Right out of the gate, the new team faces a growing list of cyclical and competitive storm clouds outside of its control, particularly in the U.S.," Jones wrote. "Tens of billions of dollars of value are up for grabs. The battle has already begun."•
Please enable JavaScript to view this content.