Two large downtown office buildings that fell into receivership have new owners, one of which is local.
Indianapolis-based Ambrose Property Group bought the Landmark Center at 1099 N. Meridian St., while Chicago-based Zeller Realty Group Inc. purchased the historic Century Building at 36 S. Pennsylvania St.
Both transactions closed in December.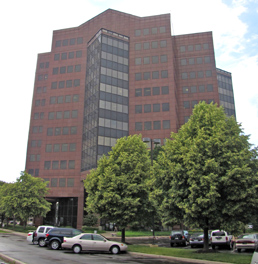 Ambrose saw the Landmark Center's 30-percent occupancy rate as an opportunity. (IBJ Photo)
With 312,740 square feet, the Landmark Center is downtown's 11th-largest office complex, according to IBJ statistics. The Century Building's 115,526 square feet rank it 19th.
Ambrose President Aasif Bade declined to divulge what he paid for the building. But real estate sources said the lender unloaded it for about $8 million. Michigan-based Quantum Investments last owned the 12-story building, paying more than $30 million in 2008.
Ambrose has been busy in recent months. It bought the 16-story art deco gem known as Circle Tower in September 2012 for about $6 million from Boston-based Winthrop Realty Trust.
And this October, Ambrose completed the purchase of a 12,100-square-foot retail center at the northeast corner of 49th and Pennsylvania streets. Ambrose bought the building, listed for $3.65 million, from another local firm, Eclipse Real Estate.
The Landmark Center's woefully low occupancy of 30 percent and on-site parking, a rarity downtown, helped sell Ambrose on its potential.
"We think it's a great opportunity in downtown Indianapolis that has a significant block of vacant space (200,000 square feet), and it differentiates itself well from the traditional office tower," Bade said.
The building has been hemorrhaging tenants in the last few years, the largest of which was Anthem Blue Cross and Blue Shield. Baldwin & Lyons is set to follow after the first of the year, vacating 81,000 square feet for 110,000 square feet in The Congressional at 111 Congressional Blvd. in Carmel.
"Just a few years ago, it was 98-percent leased," Bade said, "and that's kind of our goal."
Lobby renovations and the addition of a fitness center are among the new owner's priorities.
Meanwhile, real estate sources said Zeller paid about $6 million for the seven-story Century Building in a bidding process that attracted at least a half-dozen suitors, real estate sources said.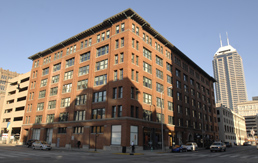 The Century Building is back to full occupancy, after the growth of tenant ExactTarget. (IBJ Photo)
The building just lost one of its largest tenants, Steak n Shake. The locally based burger chain moved to the Ober Building, which it purchased in September 2012, on the opposite corner of Pennsylvania and Maryland streets.
The two floors Steak n Shake vacated didn't stay empty for long. Existing tenant ExactTarget, which was acquired in June for $2.5 billion by San Francisco-based Salesforce.com, snapped them up, helping the locally based email marketing firm strengthen its commitment to Indianapolis.
The Century Building now is 98-percent occupied, said Tristan Glover, a vice president of Zeller.
"We've been looking to invest in downtown Indianapolis for several years," he said. "There are segments that are doing well; older buildings where companies are looking for unique space. Century fit into that with ExactTarget being the major tenant."
The seven-story Century Building was built in 1901 and is in a location that is well-suited for ExactTarget's workforce, said Todd Richardson, the company's vice president of administration.
"We like the vibrancy that takes place around the building, either with restaurants, bars or sporting venues," he said. "We also take great pride in breathing life into older buildings—buildings with a lot of character."
The building declined under former owner Blue Real Estate. The California-based company last made a payment in 2011 on a loan with a balance of $8.4 million, according to court documents.
Zeller plans to spend up to $1 million to replace the building's four elevators. The project should be complete by the first of April, Glover at Zeller said.
 
Please enable JavaScript to view this content.