The historic Marott Center at the foot of downtown's Massachusetts Avenue has a new owner.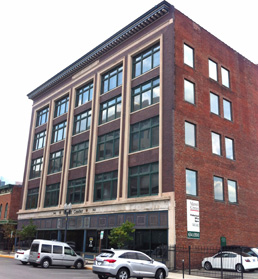 The five-story Marott Center, renovated in 1985, has been assessed at $1.5 million. (IBJ Photo/Scott Olson)
Local real estate firm Gershman Partners said Tuesday that it bought the building and an adjacent 90-space parking lot for an undisclosed price. The assessed value of the five-story office complex is $1.5 million, according to the Marion County Assessor.
George Rubin and Elliott Levin, principals of the Rubin & Levin PC law firm, had owned the building since 1984. Rubin recently announced that he was retiring from the firm.
Rubin & Levin is located in the 52,000-square-foot Marott Center at 342 Mass Ave. and will remain a tenant along with Walgreens and F.C. Tucker Co., Gershman said.
"We appreciate that we have been entrusted to carry on the heritage and tradition of this great building," Eric Gershman, principal and co-founder of Gershman Partners, said in a prepared statement. "We look forward to maintaining the historic feel while ensuring its place as an anchor of the Mass Ave District."
The Marott Center, which sits on the same block as Stout's Shoes and the 3 Mass condominium project, was built in 1906 as one of the first multi-level department stores in Indiana. Restored in 1985 by Rubin and Levin, it is listed on the National Register of Historic Places.
Indianapolis-based Gershman specializes in the development and acquisition of commercial properties. The company, formerly known as Gershman Brown Crowley Inc., changed its name last month following the departure of partner Tom Crowley, who launched T.M. Crowley & Associates.
 
Please enable JavaScript to view this content.