A 21-acre site in Greenwood where a high-profile local developer once planned to build condominiums is back on the market and repackaged as land best suited for apartments.
J. Greg Allen owned the property south of Smith Valley Road and east of State Road 135 but handed it back to the bank when demand for condominiums crashed with the housing market, said Ross Reller, senior vice president and director of land services for Colliers International.
Reller is marketing the site for BMO Harris, the bank that took possession of the land from Allen. The property is listed at nearly $1.4 million, or $63,500 per acre.
"It's going to be a great site for market-rate apartments," Reller said. "The suburbs have a good, healthy market for apartments, although a lot of new projects have started."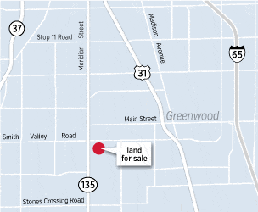 Much of the apartment-development activity is occurring in downtown Indianapolis, where several projects have either recently been completed or are under construction, pushing downtown's population to new heights. Demand also is strong in the northern suburbs, such as Carmel and Zionsville, where higher rents can support market-rate projects.
At the Whitestown-Zionsville border, luxury apartment developer Watermark Residential has started on a $23 million multifamily community. Dubbed The Villas by Watermark, the 24-building complex will have 266 living units—a mix of one-, two- and three-bedroom apartments—plus a pool, clubhouse and other amenities.
The 19-acre community is on the south side of Whitestown Parkway, east of County Road 700 East and west of M/I Homes' Maple Grove neighborhood.
Developers need high density, between 12 to 15 units an acre, to make a project work, and that's typically not found in Greenwood's zoning regulations, said George Tikijian of the Tikijian Associates apartment brokerage. He said Greenwood's lower density could pose problems for Reller as he markets the property.
"There really hasn't been anything built down there in years," he said. "The most recent property [built] is quite a bit south [near Whiteland] and has struggled to lease up. But that location is inferior to this site."
Because the parcel Reller is listing is zoned for unlimited density, actual density for a project likely would be determined through approval of the site plan. He thinks allowing 12 to 15 units per acre would be reasonable.
Reller said he has seen a lot of interest in the property but has not received an offer. He said it might take a developer six months to make a formal offer after expressing interest.
"What we're asking buyers to do is as much of the preliminary due diligence as possible up front prior to writing an offer so we know we have someone who is ready, willing and able," Reller said.
Allen did not return a phone call seeking comment on the Greenwood property.
Allen redeveloped the $14 million downtown Indianapolis Allen Plaza at Virginia Avenue and Pennsylvania Street. The project, completed in 2009, includes 31 condo units in addition to office and retail space.
 
Please enable JavaScript to view this content.