Brian Adams had made up his mind. He was going to stop providing health insurance to his 15 employees at Indianapolis-based Godby Hearth & Home.
Then in October, Adams decided to renew his group health plan early, extending coverage until Oct. 31, 2014.
After that, however, he plans to work with his employees to help them buy insurance through the Obamacare exchanges.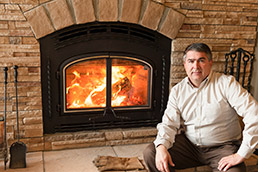 Godby Hearth & Home owner Brian Adams plans to help his employees buy health insurance through Obamacare exchanges in 2015 rather than offer the benefit.(IBJ Photo/Eric Learned)
Many employers with fewer than 50 workers followed Adams' lead last year. They kept their health plans for 2014, but a growing number say they'll drop group coverage at the end of this year.
"It's very hard for a small-business owner to deal with this. It is very complex," Adams said. "And it is dealing with what is probably the most crucial benefit that an employee can have."
Things were already trending this way before Obamacare, known officially as the Affordable Care Act.
The percentage of employers with 50 or fewer workers offering health benefits in Indiana declined from 44 percent in 2000 to just 29 percent in 2011, according to a study by the Robert Wood Johnson Foundation.
Nationally, the percentage of small firms offering health benefits dropped 10 points, according to both the RWJF study and an annual employer survey by Kaiser Family Foundation.
Obamacare does not require that small employers offer health benefits, as the law does for employers with 50 or more workers. But the law does encourage them to do so by offering sizable tax credits to offset the cost of health benefits.
If Obamacare does induce small employers to rush to end their health benefits, it will be both good news and bad news for the effectiveness of the law.
On one hand, it shows that Obamacare's overhaul of the individual insurance market has made that market a far more attractive
option, by guaranteeing coverage even for unhealthy consumers and offering individual tax subsidies to lower the cost of insurance. That is allowing some businesses to pursue what they call "an individual strategy" of helping their employees obtain health insurance, but not actually buying it for them.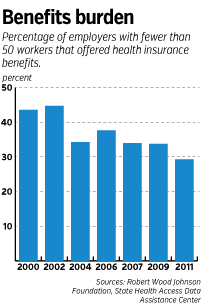 On the other hand, Adams and other small-business owners are considering an end to their group benefits because they expect other provisions of Obamacare to send their group plan premiums skyrocketing at the end of 2014.
"My hands are going to be forced," said Adams, who was an accountant before buying the Godby business. "Once this thing settles through, our group rates will jump to the point where we will not be able to sustain it."
Community rating
Health insurers such as Anthem Blue Cross and Blue Shield and UnitedHealthcare have told small-business owners that they face premium increases of 50 percent, 60 percent, 80 percent and sometimes even 100 percent at the end of 2014.
Those predictions were given to employer clients to induce them to renew their current plans early—before the Obamacare rules kicked in Jan. 1, but business owners and insurance brokers take them seriously.
Obamacare will increase insurance rates for many employers because it will not allow health insurers to charge their oldest customers any more than three times as much in premiums as they charge their youngest customers. Previously in Indiana, the oldest customers paid six or seven times more than the youngest.
The new rules, called community rating, mean that companies with younger-than-average workers will face a big increase in insurance rates. For businesses with older-than-average workers, the new rules will probably lead to lower health insurance premiums.
Those rules apply only to individual insurance customers and employers with fewer than 50 workers.
The Indiana Department of Insurance predicted that small employers' health insurance premiums would rise 8 percent on average this year due to Obamacare. But for all companies with younger-than-average workers, the new rules mean they'll be paying more.
"I can't absorb a 60-percent increase. It's a complete deal-breaker," said Mike Hutson, owner of Westfield Lighting Co.
He received a projected premium increase from UnitedHealthcare of 60 percent for the end of 2014, which would mean he would pay $50,000 more per year for health benefits for his 17 workers.
He currently pays nearly $5,000 per worker for health insurance, which is a bit lower than national norms.
So instead, Hutson switched his health plan to Anthem on Dec. 1, paying just 6 percent more than he did the year before. That Anthem policy, since it was sold in 2013, does not have to comply with Obamacare's new community rating rules. But come Dec. 1, 2014, it will, which will likely send Westfield Lighting's premiums soaring.
At that point, Hutson said, he's almost certain to send his employees to the Obamacare exchanges. He doesn't expect to be alone.
"I believe that most small businesses, eventually, will punt," Hutson said. "I think there will be a tidal wave of this."
Half could drop coverage
Health insurance consultants who work with small employers agree.
Matt Kleymeyer at Bernard Health, a health benefits consulting firm for individuals and small employers, said he has worked with 40 companies that plan to drop their group health plans, but only four of those did so on Jan. 1.
"If you're going to be faced with a 50-[percent] or 60-percent increase, you may not have an option to keep a group plan," Kleymeyer said. "Groups need to be aware of this. They need to start communicating to employees early. They need to think about a reimbursement program. And they need to take time to roll it out."
The main thing that kept Adams, who is one of Kleymeyer's clients, from dropping Godby's health benefits was that the majority of his employees would have paid more for health insurance in 2014 on the Obamacare exchanges than in Godby's group health plan.
But if premiums spike at the end of this year, as Adams expects, the exchanges will become the most attractive option.
Tony Nefouse, a health insurance broker for individuals and small businesses at Indianapolis-based Nefouse & Associates, is also seeing small employers end their group health benefits.
"I'm chopping up groups left and right," Nefouse said in late 2013, noting that about half his clients with fewer than 50 workers have either already dropped coverage or have decided to drop it at the end of this year.
It's firms with fewer than 30 workers that are most likely to end group coverage now, Nefouse said. And among firms with fewer than 10 workers, about 80 percent are working to drop coverage.
Employers with lower-wage workers, or that have had low participation rates in their group health plans, are most likely to drop coverage, Nefouse added.
"With skyrocketing premiums over the years, you have employers who feel like their profits are all going to health insurance premiums," Nefouse wrote in an email.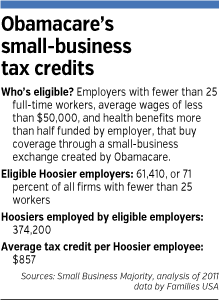 But more could add coverage
Certainly not all small employers are talking about ending health benefits. Some are even adding them, as Obamacare encourages them to do.
Indianapolis-based Sun King Brewing Co. decided to add health insurance for the first time, starting on Jan. 1. That was partly because the company expected to exceed 50 employees by the end of 2013 and partly because its owners felt it was the right thing to do.
"Since we founded the company, we planned to offer health insurance, as soon as we could afford it," said Sun King President Omar Robinson.
In fact, several national studies have concluded that Obamacare will lead to a slight increase in the number of firms offering coverage.
For example, survey data collected by the National Federation of Independent Businesses last fall found that 13 percent of employers with 50 or fewer workers planned to add coverage in 2014—twice as many as planned to drop it.
Also, a simulation conducted in early 2013 by California-based RAND Corp. found a slight increase in small firms offering insurance by 2016. Small-business coverage will decrease in some states, Rand's model found. But in either case, the change will be modest, with increases topping out at 5 percent and decreases bottoming at 2 percent.
Obamacare tries to encourage the smallest employers—those with fewer than 25 workers—to continue offering health benefits by allowing them to deduct as much as 50 percent of their health insurance premium contributions from their 2014 corporate income taxes.
Obamacare, since it was passed in 2010, has allowed small businesses to claim a tax credit equal to 35 percent of the money they spend on employee health benefits. But few small businesses have taken advantage of it, according to a 2012 report by the Government Accountability Office.
That's surprising because so many employers could qualify for the credits, according to data crunched by two liberal health insurance advocacy groups, the Small Business Majority and Families USA.
In Indiana, an estimated 61,410 employers, or 71 percent of all firms with fewer than 25 workers, would qualify for a tax credit, which would average $857 per worker.
Westfield Lighting is one of the companies claiming the credit in Indiana. But Hutson said the tax credit won't stop him from dropping his group health plan next year.
"While it helps, it is still a cash-flow killer," he said in an email. "I have to put up the money and then wait for the benevolence of our 'statesmen' in Washington to give it back at the end of the year. No thanks."
Also, a lot of small employers don't qualify for tax credits. Adams at Godby Hearth & Home, for example, said his employees on average earn more than $50,000, making his firm ineligible for the credits.
Instead of paying for health insurance directly for 2015, Adams said, he will pay Bernard Health to guide his employees through the maze of choices and incentives that now exist for buying health benefits individually. Adams will also contribute what he was paying before for group coverage to subsidize his employees' insurance purchases.
"It is really taking this responsibility of insurance out of the business owner's hand and putting it into the individual's," he said. "The old system clearly was going down, heading toward a cliff, anyway. I think the simple point of empowering people to take control of their own destiny for health care is a good thing."•
Please enable JavaScript to view this content.