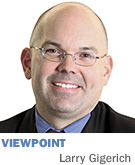 There have been many heartfelt and thoughtful positions both in support of and in opposition to same-sex marriage. I have friends who are equally passionate and respectful on both sides of the same-sex marriage debate.
My perspective on the proposed constitutional amendment in Indiana is based upon our firm's work assisting small and large companies decide where to locate and grow their businesses.
Let's start with the practical aspect of the issue. Current Indiana state law defines marriage as being between one man and one woman and does not recognize marriages conducted in jurisdictions outside of Indiana.
In addition, two recent U.S. Supreme Court cases have resulted in rulings that reinforce the rights of individual states to define marriage in their jurisdictions. Taking the additional step of permanently altering the Indiana Constitution to define marriage would be perceived as both unnecessary and discriminatory.
Indiana and the United States are in a race for talent. The long-term economic success of communities will depend on human capital.
The Midwest's challenges in attracting and retaining top talent are well-documented. Midwestern states do not have mountains or oceans, and lack some of the other quality-of-life amenities that young, well-educated professionals desire in the places they choose to live. As a result, Indiana has to work harder than other areas to build and retain its human capital.
Unfortunately, many locations in the middle of our country are not viewed by businesses and individuals as being tolerant and welcoming. Some of this perception is clearly unfair and misguided, and has been perpetuated by those who have not taken the time to know people in "flyover" states.
At the same time, the Midwest has earned some of its reputation based upon actions taken or not taken by its leaders. The use of "inflammatory" language and singling out certain groups of citizens is counterproductive when competing for the best talent.
As I speak with my site-selection colleagues from around the country regarding their perceptions of Indiana, they express tremendous admiration for everything that has been enacted by our elected officials to make the state more attractive to growing companies (tax restructuring and right-to-work, for example).
At the same time, they point to our significant human capital challenges (lower educational attainment levels and a lack of technical/scientific talent) that constrain the Hoosier economy. While much has been accomplished, there is much more to do.
Now is not the time to create uncertainty and send mixed messages to corporate decision-makers and top human capital regarding Indiana's direction. The Hoosier state will not be able to leverage all the positive steps taken in the past decade to become the best place to live, work and conduct business, if the constitutional amendment to define marriage is approved.
Recent job reports have indicated that the unemployment rate in Indiana has dropped more than 1 percent. Job growth has been strong in the manufacturing, construction and trade, utilities and transportation sectors.
In order to position Indiana for sustainable economic growth and wealth creation for future generations, I urge the General Assembly to reject a constitutional amendment that defines marriage. We already have enough challenges in the race for human capital without making it more difficult for our state to compete globally.•
__________
Gigerich is managing director of Ginovus, an Indianapolis-based provider of national site selection, public-policy development, community comparative analysis and economic development incentive procurement and management. Send comments on this column to ibjedit@ibj.com.
Please enable JavaScript to view this content.