There is a moment of relief the first time projected titles appear on the walls during Nina Raine's play "Tribes" (having its local premiere at the Phoenix Theatre through Feb. 9). At last, we in the audience get to fully understand what Billy (Andrew Martin), the deaf son in a particularly loud family, is saying.
We've already had the frustrating (but dramatically compelling) experience of witnessing Billy and his clan around the kitchen table, where competitive conversation is a contact sport. Dad, a pompous academic; Mom, a would-be mystery writer; sister Ruth, a wannabee opera singer; and brother Daniel, an aimless cynic (prone to barbs like calling opera-goers "a bunch of people listening to something they don't understand and feeling vaguely emotional and pleased with themselves"), share one thing in common: a refusal to deal directly with Billy's … what's the right word?

Handicap? Disability? Language difference?

Depends on who's doing the talking.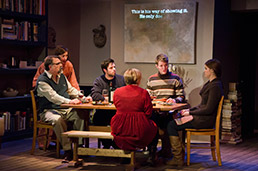 Projected titles give an added layer of insight in Nina Raine's "Tribes" at the Phoenix Theatre. (Photo courtesy Phoenix Theatre)
The family, you see, never learned sign language and discouraged Billy from taking it up, believing lip reading would better help him fit in to mainstream society. But there's no question that Billy has been marginalized—more by his blood relations than from the outside world—something he doesn't fully appreciate until he meets Sylvia. She's a young woman who at first appears to have it all together. But, we soon learn, she's slipping into adult-onset deafness.

That's where the projected titles come in. And as the complexity of the relationship between Sylvia and Billy deepens—as Billy sees what his family

didn't provide and as Sylvia painfully loses pieces of the world she's known—playwright Raine does a remarkable job of juggling complex issues and three-dimensional characters without resorting to movie-of-the-week obviousness.

What is translatable and what isn't? How does our choice of language affect who we are and what we are capable of expressing? Should we define ourselves by what we can/can't do?

The most remarkable moment in the play for me, though, may have been accidental. The Basile Theatre downstairs at the Phoenix is an intimate space, requiring creative direction and designing. At one point in the second act, I grew frustrated because I could not fully see the projections on a wall because of an actor in the way. How was I supposed to understand what was being said via sign when I don't understand the language and can't see what I need to see?

And then it occurred to me: I had briefly become the Billy of the opening scene, straining to get a clear sightline to the mouths of his family so that he could understand, making guesses when communication wasn't clear. Not seeing the projected words made the play even richer.

If only Raine had been as clear and smart and focused about the final fifth of her play as she was about what came before. Like someone writing neatly in a greeting card who realizes she has much more to say and so crams in the remainder of the note in margins, Raine overcrowds the back end of her second act, draining the elegance, clarity and emotional capital that she's built up. Inexplicable plot choices, hasty shifts in tone, and unwarranted reactions from the characters mar an otherwise strong play. And, unfortunately, the cast—ranging from remarkable to one-note simplistic—can't do her work for her.

Still, this is a play—and a playwright—worth, well, hearing.•
Want more contemporary drama?
The Indiana Repertory Theatre will be staging Jon Robin Baitz's "Other Desert Cities"—about the clashes in a family accentuated with the impending publication of a daughter's memoir. Meanwhile, NoExit Performance will offer "Middletown," Will Eno's philosophical look at ordinary life. Both open in March.

__________

This column appears weekly. Send information on upcoming arts and entertainment events to lharry@ibj.com.