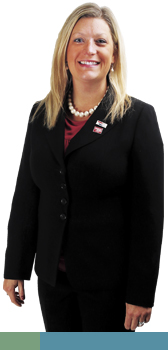 (IBJ Photo/Aaron P. Bernstein)
Caught in the middle: When selected for Forty Under 40, Adams was a partner at Lewis & Kappes. She later accepted a position as associate general counsel for immigration at Indiana University.
Active cultures: Interest in immigration issues built over the years thanks in part to studying Spanish in high school, taking mission trips to Native American reservations out West, studying in Spain during college (public affairs/management major at IU), then taking a teaching job in Saltillo, Mexico.
Back in the USA: A job with the Indiana Department of Education in its minority and migrant program led to the Indiana University Robert H. McKinney School of Law in Indianapolis, then Lewis & Kappes, where she consulted on immigration policy in the General Assembly and on Capitol Hill. She organized and led the Indiana Compact, which defined principles to guide immigration debate; served as co-counsel with the American Civil Liberties Union in lawsuits challenging Indiana immigration law; and led a statewide effort to pass Senate Bill 207, allowing in-state tuition at Indiana universities for some undocumented students.
Complex issues: A pet peeve is "when people think immigration is as simple as a bumper sticker. It's not. It's extremely complicated. It's not about, 'Let's deport them all' and it's not about amnesty for all. It's everything in between."
AGE 39
Hometown:
Carmel
Family: husband, John; children Erin, 5, and Johnny, 3
Memorable cases: "Whether it's someone who has to go back to Mexico to get a waiver and is separated from his wife and children, or a removal case and we have to prove that that person deserves to stay here," said Adams, "seeing someone's family separated and then being able to reunite that family is the best feeling in the world. I was at an American immigration lawyers conference in Nashville on the day Obama announced Deferred Action for Childhood Arrivals [which allow some prosecutorial discretion toward unlawful immigrants who arrived as children]. I cried. Then I picked up the phone and called everyone I could think of off the top of my head who could qualify."
Sidelines: Adams is past president of the Immigrant Welcome Center, chairwoman of the Indiana chapter of the American Immigration Lawyers Association, and on the board of the Mexican Scholarship Fund.
Down time: A cabin in Brown County. "It's my happy place."•
 
Please enable JavaScript to view this content.