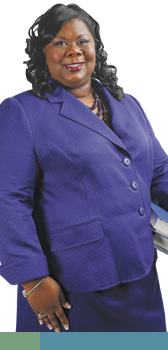 (IBJ Photo/Aaron P. Bernstein)
Declaration: Askew remembers being a determined child. "One day, I just announced that I was going to be a lawyer, wife and mother. I had no idea how hard that would be."
Crime time: Fascinated by "LA Law," she set out to be a criminal lawyer. After earning her law degree from Indiana University's Maurer School of Law, she worked in the juvenile and domestic violence divisions of the Marion County Prosecutor's Office and served as special assistant corporation counsel and public access counselor for Indianapolis. "I was all about being a criminal lawyer and wasn't open to the other options. When I let myself be open, I realized there was a great big, wonderful world out there." Working with municipal corporations led her to Health and Hospital. "Growing up, I actually went to Wishard so, for me, it's coming full circle."
AGE 37
Hometown:
Indianapolis
Family: husband, Charles; daughters Kennedy, 5, and Chandler, 3; stepsons Deldric, 19, and Terrance, 16
Perspective: "My two little girls are still at that stage where, when you come home, whether it's five hours or five days, they run to the door and they give you hugs and they give you kisses. A lot of times, I'm still reeling from what happened in the day, but they help me to erase it all. It's been wonderful. My extended family has always been in my corner."
Boards: While in law school, she became involved with Big Brothers/Big Sisters. She remains involved and is still close with her little sister even though she aged out of the program. She's also on the board of Reach for Youth and is very involved with her sorority, Delta Sigma Theta. For 2014, she's been selected for the Women's Fund of Central Indiana board.
Kicking back: "Growing up, I thought cruises were for old and boring retirees. Now we love to cruise. To lay on the deck. To see the beautiful blue sky … "
Favorite spot at H&H's new Eskenazi Health campus: "It makes my husband a little nervous, but my favorite place is the maternity ward."•
 
Please enable JavaScript to view this content.