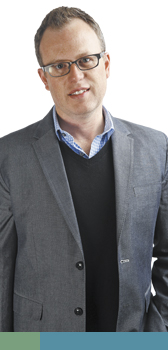 (IBJ Photo/Aaron P. Bernstein)
Starting with a tweet: Carlson was working on a Microsoft video that trended on Twitter. "I wanted to try to understand, quantitatively, how big it was," he said. "Did it move the needle for perception of the property?" Finding no good way to converge all of that social conversation into data, he and creative partner Jen Handley created one. "We cooked up a way to measure the social conversation, quantifying volume and sentiment, identifying patterns, and converting that data into stuff that means something."

Split screens: He shared his thinking with the partners at Broad Ripple-based ad agency Bradley and Montgomery, where Carlson continues to work as chief strategy officer. "They thought it worthwhile enough to help launch it and spin it out as its own company in 2009. I consider myself lucky. I have two jobs that I'm madly in love with."

Focus: Fizziology tracks every major movie release and sells the data it compiles and analyzes to interested parties, including Universal, Disney and Paramount. While hush-hush about specifics, Carlson said Fizziology was involved with about 40 percent of 2013 studio releases.
AGE 39
Hometown:
Carmel
Family: wife, Jessica; children Ella, 10, and Spencer, 8
A Hoosier in Hollywood: Carlson distinctly remembers his first knee-knocking experience entering talent agency CAA—with its "Death-Star-like glass building, and the most beautiful people you can imagine as receptionists." He said there have been a couple of "what you would imagine a crazy Hollywood meeting would be, but the vast majority of them are incredibly down-to-earth, business-minded conversations with people trying to do a job. It just happens to be in the world of entertainment, which is a lot sexier than selling insurance."

Spoiler alert: "I love movies," Carlson said. "But the way I watch them now is completely different from the way I used to. By the time a movie is in theaters, I've been thinking about it for years. It's a little anticlimactic."

Advice: "You can do what you want to do as long as you put in the time and find the right people to do it with. No one is going to ask you to do it and there's nobody to ask permission to do it."•