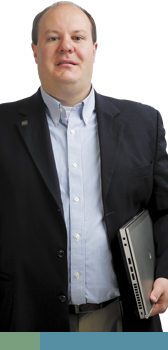 (IBJ Photo/Aaron P. Bernstein)
Dodging the crash: After completing his undergraduate work at DePauw University in computer science, Dixon saw many of his friends going to work as IT consultants. Luckily—this was just before the tech bubble burst—he went another route, answering an ad for a computer programmer. "It didn't even give the name of the company," he said. "Turns out it was the Regenstrief Institute."
No strife at Regenstrief: Regenstrief—a not-for-profit supporting organization to Indiana University—primarily focuses on health care informatics. "The folks I was working with were mostly doctors and Ph.D.s. They encouraged me to go back to school and complete my doctorate." When he did, he became an IU faculty member and project leader.
Show me the money: "The reality is that government funds are a huge portion of research. As faculty, I'm now writing most of the grant applications. It adds up to a big number. I was shocked about that." The shocking number? Over $20 million in grants and contracts.
AGE 35
Hometown:
Evansville
Family: wife, Katie; sons William, 6, and Andrew, 3
And the work? Computer systems that allow doctors to enter orders for medications and lab tests and for consultations with specialists. "Research," Dixon said, "shows improved health outcomes and the reduction of medical errors. If someone has an allergy, for instance, it can alert both the doctor and the pharmacist." Computers also help compile information in a useful way. "When someone dies from flu or contracts measles or hepatitis, those cases have to be reported to public health. The project I'm working on is trying to improve how we can efficiently and effectively get information to the public health authorities. Traditionally, that was all done on paper."
Away from the computer screen: Dixon served on the board for College Mentors for Kids. "It gets to at-risk kids, who don't otherwise have exposure to college campuses, while they are still young and impressionable." An Eagle Scout, he's looking forward to his sons' being involved in scouting.
Disney-fication: Dixon and his wife honeymooned at Disney World (She's a Disney travel planner) and still go regularly. "When there with the kids, we can enjoy the magic … although some things lead me to wonder, 'How did they do that?' and try to figure it out. I can't always turn off that part of me."•
 
Please enable JavaScript to view this content.