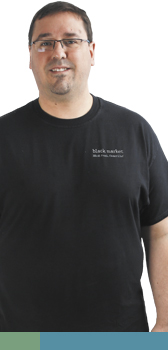 (IBJ Photo/Aaron P. Bernstein)
Education: Initially, Frank's focus was on landscape architecture. "I appreciate good architecture," he said, "but I knew in my fourth year at Ball State that I didn't want to work in an office. I thought the kitchen was a more creative place for me." Early stints include work at the Hayloft, housed in a barn in Plymouth.
Farm fresh: "I didn't grow up on a farm, but my grandparents did, so I always remember those farm-cooked meals. I still gravitate toward comfort food."
European tour: After college, Frank traveled to Europe, with stops in Spain, France and Italy, eventually working at St. John Restaurant in London. "My goal was to get into my favorite restaurant and that was my favorite." He worked for free with the goal of gaining experience before coming back to the U.S.
Developing a culinary esthetic: "I've been fortunate," Frank said. "I was lucky to work under Tony Hanslits, Regina Mehallick and Greg Hardesty. They all have my philosophy of keeping good-quality ingredients and not overdoing it when cooking them." While you always have the competitive side of people, he added, overall the people he has worked with in the independent restaurant scene have been supportive. "They want to see Indianapolis grow and, right now, Indianapolis is experiencing a sort of renaissance and it will continue to get better."
AGE 39
Hometown:
Plymouth
Family: single
Working down the block from former employer R Bistro: "The space itself was the perfect size for what I wanted to do. It's pretty much about timing, though. It was a video store and, obviously, didn't make it."
Avoiding burnout: For many restaurateurs, shifting mental gears from creatively launching to sustaining poses a big challenge. "For Black Market," Frank said, "I'm very lucky to be able to have the creative freedom to do what I want with the food. We keep things changing all the time."
Friends don't let friends eat free: "A lot of businesses fail because [the owners] give out free food and drinks all the time," Frank said. "If we were all millionaires, we could do that. But we're not. Luckily, my friends and family come to Black Market for good-tasting food and drinks and great service. They don't expect free."•
 
Please enable JavaScript to view this content.