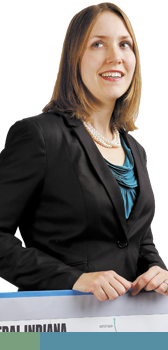 (IBJ Photo/Aaron P. Bernstein)
Early governmental intervention: Gremling's mother was the mayor of a small town, introducing her at a young age to local government and politics.
Jumping to Indy: "I took a huge leap of faith by moving to Indianapolis," she said of taking a job with The Schneider Corp. after a stint with the Great Valley Metro Council serving greater Grand Rapids. "It was a private-sector job. I didn't know exactly what I was doing. And it was for only $4,000 more than I was making, which hardly paid for the move. But the risk paid off."
Lesson learned: "Sometimes naivete can be a good thing."
Upgrading Indianapolis: "I really would like to see downtown become more of an active place. There are opportunities for 20-somethings, but if you have young children, it's harder. If I want to take my daughter down to Mass Ave for lunch, there aren't active parks—open spaces to run and play."
 
AGE 34
Hometown:
Sparta, Mich.
Family: husband, John; daughter, Ella, 6
Giving back: She's served on the Mayor's Bike Advisory Board and helped organize the first of the Mayor's Bike Rides. Still, she wants to do more. "It's been a little harder for me to get involved in Indy because I have a young daughter and, up until a few months ago, was a single mom. Now that I have a family support structure, I hope to get more involved."
Getting out: "You'll find us out on Eagle Creek on any given nice weekend," she said. "Or gardening" (primarily vegetables for salsa).•
Please enable JavaScript to view this content.