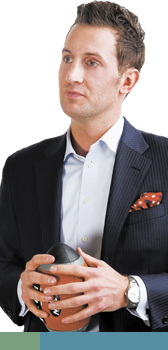 (IBJ Photo/Aaron P. Bernstein)
Giving up the bottles: Until 2013, Hill ran not only the real estate development firm LOR Corp., but also United Package Liquors—both founded by his grandfather Leon Riggs, aka Pop. "I spent countless hours by myself in my office thinking, 'Is this the right decision?'"
Consensus: United Package Liquors' acquisition last year by Bloomington-based Big Red Liquors was the right decision.
Building boom: Hill and LOR are now focused on building a three-story mixed-use building (with Chipotle at its base) in Broad Ripple. It also recently acquired the 82nd Street former location of Lifestyle Fitness, which will house Fresh Thyme Farmers Market among other businesses. Of course, "There are always a few others in the hopper."
Called to the bar: "I wasn't sure what I wanted to do after graduating college," said Hill, who was a first-team All-American point guard and conference player of the year at Huntington University. But while sitting in a computer lab as a junior, he got a call from Pop. "He wasn't a big phone talker. He just said, 'I think you should go to law school.' And he hung up." Two months later, Hill called his grandfather back and announced he was going to Indiana University's Robert H. McKinney School of Law in Indianapolis.
AGE 32
Hometown:
Selma
Family: single
Family matters: Hill practiced law for a few years but in 2010 joined LOR, again sparked by a conversation with Riggs. In the first week or two at LOR, Hill thought things would be easier. "What I found is that I spend significantly more time and more effort and energy for the family business than I did practicing law. I'm trying to carry on the legacy started by Pop. That, to me, is more motivating and more demanding than law."
Charitable choices: Through the United Hope Foundation, $1.5 million has been raised primarily to support individuals and families facing extreme hardship. Hill, who is president of the board, also serves on the boards of Noble of Indiana and the Rehabilitation Hospital of Indiana Foundation (in honor of Pop, who was paralyzed from the waist down in an airplane crash.) "I want people to have the success and independence that Pop had his whole life," Hill said.•
Please enable JavaScript to view this content.