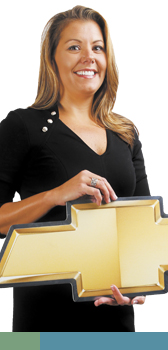 (IBJ Photo/Aaron P. Bernstein)
At work: With sister Courtney, purchased Hare Chevrolet, becoming sixth-generation owners of the company, which was founded in 1847 as a wagon and buggy manufacturer. In 2012, Hare topped the state for sales of new General Motors cars.
Being a local celebrity: "You realize when you are a person in the spotlight that you are going to be an easy target for the haters of the world," said one half of "The Sisters of Savings." "It comes with the territory. We're often asked 'So, do you really work there?' People assume we are hired talent or the family chose us."
Working with Sis: "It definitely adds a different dynamic. We're both in situations where we are trying to balance young kids and this business and business travel. We try to make it work for each other. You have to choose your battles."
First job at dealership: "There was always filing to do during holiday breaks," recalled Peck, who used to go to work with her father and then catch the school bus.
Getting back behind the wheel: After seven years, she left a successful IT career to return to the family business. "I realized I was working hard to build somebody else's assets. [Meanwhile], there was this asset that could come to me that I wasn't developing."
A car person? No, not really. "But [she and her sister] realized this business is about relationships and people and not necessarily about cars."
AGE 39
Hometown
: Noblesville
Family: husband, Darren; children Sydney, 11, and Alexander, 7
Buying in: "My father said he'd like to create an exit strategy for us to take over. We bought him out in January of 2008, when the economy was good. And then the wheels fell off the bus."
Calling Dad: "It was a pride issue not to call him [for advice] when the economy went to hell in a hand basket. We said, 'We're not going to make the call until we 100 percent feel like we have to make the call.' He made more calls checking on us."
Point of pride: "We didn't experience a single month in the red from 2008 to the present."
10 years from now: No, she doesn't expect to be selling flying cars. "We definitely have plans for growth and expansion. We'd like to add franchises and diversify the portfolio."
Benefits of a male-dominated business: "At dealer meetings, there's no line at the women's room."•
Please enable JavaScript to view this content.