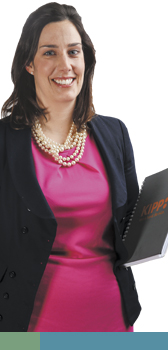 (IBJ Photo/Aaron P. Bernstein)
Stepping in: Pelino took over the troubled KIPP Indianapolis charter school in 2009 after a disappointing four-year charter review (and after four previous leaders since 2004). In 2013, KIPP eighth-graders passed the ISTEP math test at higher rates than the district and the state.
Home school: Pelino said she learned a lot about drive from her father, an Italian immigrant who was the first in his family to finish elementary school. "Through him," she said, "I could see what's possible for kids and families in the long term."
Rural rules: After studying at the University of North Carolina at Chapel Hill, she joined Teach for America and was placed in one of the lowest-performing schools in North Carolina. It happened to be down the street from a KIPP school. Its two founders became Pelino's mentors. She earned a master's in public health and master's in social work but, she said, "quickly realized that, while I care about those issues, education was where I wanted to do my life's work."
Indy calls: Indiana wasn't on Pelino's radar when she got the call. But an intriguing offer—and being a bit closer to family in Michigan—sealed the deal.
AGE 32
Hometown:
Ann Arbor, Mich.
Family: single
Model teacher: "My fifth-grade teacher," she said, "believed very deeply in all of the kids but drew a hard line around expectations. He wouldn't let people slack off. There was always a bar to get to and it might take three, four or 10 times, but the bar was never lowered."
Charter correction: "The misinformation I hear most frequently is that charter schools are private schools or selective schools. KIPP is a public school where 90 percent of the students qualify for free or reduced lunch. It really is a place for all kids."
Down time: "I like to pretend that I have some spare time," Pelino said. "When I do, I like to be outside. And I joined a book club." Her personal book pile ranges from teen fiction to "Leveraged Leadership."•
 
Please enable JavaScript to view this content.