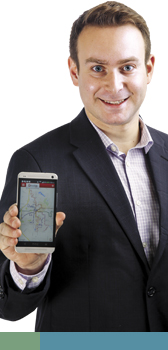 (IBJ Photo/Aaron P. Bernstein)
Coming to America: Rekhter's father, now a research scientist at Eli Lilly and Co., and his mother, a professor at Lincoln College in Illinois, first settled in Michigan in 1991 before moving to Carmel. Encouraged by them, he said, "I wanted to do something different [from what they did], but equally successful."

Early entrepreneurship: Rekhter's business zeal started early, with ventures including buying, rehabbing and reselling computers and e-publishing. "These little endeavors," he said, "helped show me how to do business the right way."

The big idea: At Indiana University, Rekhter and some friends were intrigued by transportation—specifically why fuel efficiency and safety have improved but there still wasn't a way to know when your already-20-minutes-late bus would arrive. His solution: DoubleMap, a bus-tracking application giving riders and fleet operators real-time information on the whereabouts of vehicles.

Going full time: While in Africa working on a consulting job, Rekhter set up a list of benchmarks he would need before quitting his day job to go full time with DoubleMap. "I wanted to have paying clients and enough money in the bank for six months in case things didn't go well." With IU as a client, he took the leap—and burned through the six-month budget in three months. But soon more clients were attracted, co-founders joined him full time, and now about 20 people are on the payroll.
AGE 25
Hometown:
Ivanovo, Russia
Family: single
Expansion: DoubleMap's clients span the country, including Purdue, Georgetown and Michigan universities as well as Disney Studios and Stanford Medical Center. "Long ago," Rekhter said, "we ran out of friends to hire. To build a product that works, you need a lot of people from a lot of different disciplines."

Getting away: Rekhter's love of travel has also sparked a way to give back. He recently returned from a volunteer trip to India where he worked at a vocational college helping students with basic business skills. "They aren't aspiring to be doctors or lawyers," he said. "They just want to find work." Closer to home, he serves on the board of the Russian School of Indianapolis.•