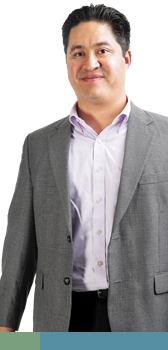 (IBJ Photo/Aaron P. Bernstein)
At work: Off-the-field marketing for professional athletes. Recently expanded into on-the-field contract negotiation. Clients include Arizona Cardinal Larry Fitzgerald, Chicago Bears Devin Hester and Alshon Jeffery, and Indianapolis Colt Pat McAfee.
Career genesis: A work-study job at Northwestern University as student manager for the men's basketball team. "We were awful," Sermersheim said, "but I really loved it."
A defining moment: Unhappy at an engineering job in Chicago, Sermersheim was encouraged by friends (and professional athletes) Scott Rolen and Evan Eschmeyer to look into becoming an agent.
Career boost: While studying at the Indiana University Maurer School of Law, he met Tom Shine, founder of Logo Athletic and a sports marketing pioneer. "He got me an internship and then hired me to work with Reebok. I was negotiating contracts from the other side of the table."
Any good stories? "A good agent doesn't share anything salacious."
AGE 38
Hometown:
Jasper
Family: wife, Amy; daughter, Stella, 4
What about time spent working for World Wrestling Entertainment? "Instead of going in and just selling what I had to sell, I learned to be able to listen and identify ways to help different clients and partners move their brands forward through a vehicle that they may not have considered otherwise."
Hopes for 10 years from now: "Doing what I'm doing, in Indy, with as good or better a client base. Having a strong track record of doing on-the-field contracts for our clients that would measure up with what we do today with off-the-field."
Giving back: On the Business Law Program Advisory Board at the Maurer School; appointed by Mayor Greg Ballard to board of Indy Hub. "Indy Hub was helpful in my family's acclimation to the city [They moved here in 2011]. Being able to be a part of it and help others is a good fit. Having lived in Chicago, New York, Boston and San Francisco, I felt like I had a perspective to offer."
Moment of pride: "Helping Greg Jennings over the past couple of seasons go from one of a cadre of wide receivers with Green Bay to a more national name with the Vikings."•
Please enable JavaScript to view this content.