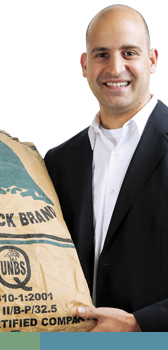 (IBJ Photo/Aaron P. Bernstein)
If you build it … : Srour raised more than $2 million and has opened community-built, stakeholder-sustained academies in Uganda. In 2014, ground will be broken on the 30th school with a goal of 60 by 2016. Supporters include Bill Clinton through his global initiative.
It takes a village: "I certainly didn't know how in the world to do it myself," Srour said. "This is truly a byproduct of being able to stand on the shoulders of people who had a belief in the need to do this work and the way we set out to do it."
Turning point: Srour was working at the World Food Program as a college student when he visited Uganda and saw the conditions of a school there. "I thought there was something I could do," he said, and he decided he would return to the College of William & Mary with the goal of raising $10,000. When en route to Entebbe, he received a message to call the U.S. ambassador. "That's slightly unnerving for a college student," he recalled. But it was good news. The New York Times, CNN and others had gotten wind of his project and word was spreading. Instead of 10 grand, $45,000 rolled in. "Very little of it," he added, was from people he knew.
AGE 30
Hometown:
Indianapolis
Family: single
When asked if the money is well spent: "My response is, 'Come with me and let me show you.' Those who doubt that it's needed simply haven't been exposed to that need. To think that there are 57 million kids in the world who don't have access to an education, that's pretty silly. You can debate quality and so forth, but every child [in America] has a chance to go to school."
Session success: At 30, Srour joined Session, the board equivalent for Second Presbyterian Church and has led Ugandan trips for parishioners.
On the road: An avid runner, Srour favors the Monon Trail over Ugandan roads. "In Africa, it's hard to find any place that's paved for the length of a good run. You make do sometimes with treadmills."
Down beat? Americans don't have a full picture of life in Uganda, Srour said. Despite the hardship, "I've been no place that has a greater sense of happiness than in Uganda. There is a great sense of natural beauty within people. It's not as down a place as sometimes people make it out to be."•
Please enable JavaScript to view this content.