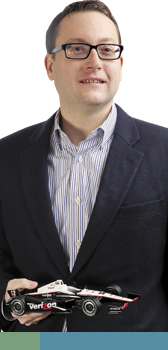 (IBJ Photo/Aaron P. Bernstein)
Beyond car branding: At Just Marketing, Zirkle negotiates a wide range of deals, including signage and naming rights, primarily in the motorsports business. "If it's on wheels, we touch it."

Point of pride: "As a lawyer, I've never killed a deal."

How music changed his life: "A friend had a decent band called Baja Planet and I got them some lousy gigs in central Indiana," recalled Zirkle. "In law school, I saw a posting for a job at [celebrity licensing giant] CMG Worldwide and the head of legal was a musician, so we spent most of the interview talking about bands." Zirkle got the job.

Favorite celebrity negotiation: While working for CMG Worldwide, he visited Chuck Berry's house regarding a deal to record the guitar great's voiceover for an airline. Zirkle brought along Gibson Guitar reps to try to get Berry to make a deal for a signature instrument. "Unfortunately, the deal never got done," Zirkle said. "But when he sat down and played the first bars of 'Riding Along in My Automobile,' suddenly it hit me that a legend was in front of me."

Validation: Zirkle serves on the board of United Methodist Foundation of Indiana and is past chairman of the Indianapolis Bar Association's Sports and Entertainment Executive Committee.
AGE 38
Hometown:
Warsaw
Family: wife, Jennie; children Madeline, 13, Anderson, 6, and Eli, 3
On the Hoosier way: Zirkle believes Midwest lawyers approach things differently than their coastal counterparts. "Sometimes they take kindness for vulnerability," he said. "I've been told I'm one of the nicest lawyers anyone has done business with. But I've never been told I'm one of the most naïve."

If he knew then: "As a young attorney, I thought I'd let the older folks speak. They must know more. But I've learned that age doesn't always equate to wisdom. Doesn't always equate to creativity. Young me would have been well served to speak up and be more assertive."•