As Indiana's nursing homes ask state lawmakers to halt competitive construction, they're enjoying a sudden surge in their revenue and profits.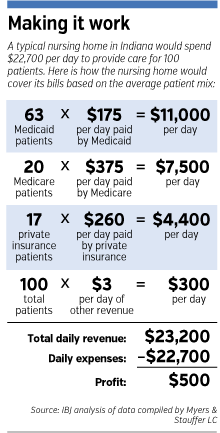 Nearly two-thirds of the state's nursing homes are now participating in partnerships with county-owned hospitals that effectively double their profit margins.
The partnerships allow both hospitals and nursing homes to draw down extra federal money, which appears to give nursing homes at least 2 percent on top of their average profit margin of 2 percent, according to nursing home officials and the publicly disclosed details of one partnership.
Those who oppose the five-year moratorium called for by Senate Bill 173 point to this extra funding as proof that nursing homes do have money to spend to upgrade their facilities to serve patients better—and that competition is the best way to make that happen.
"With millions of Americans aging into retirement and beyond over the next 20 years, there's significant opportunity for those who can bring innovation to the tired, existing models of health care," said Zeke Turner, CEO of Carmel-based Mainstreet Property Group, which has built 10 upscale nursing homes in Indiana in the last five years.
Most nursing home operators, however, don't see it that way. The extra money—which totaled about $35 million last year—isn't being applied by nursing homes to their bottom lines, but instead invested in upgrades of patients' experiences.
And even if it were, the extra money would still leave nursing homes with modest margins when compared with most other industries.
Nursing-home finances are a careful balance between money-losing Medicaid patients and profitable Medicare and private-pay patients. That's why nursing-home operators are concerned that a string of new facilities—about 20 in the past five years—has been aimed almost exclusively at the profitable Medicare and private-pay patients.
For example, Mainstreet has built 10 facilities with only about 10 percent of their beds available for Medicaid patients.
Those facilities jeopardize other nursing homes' ability to keep caring for Medicaid patients, according to proponents of the moratorium.
The state of Indiana pays about $175 a day to care for a Medicaid patient, but it costs $200 a day, when all types of costs are included, to care for such patients, according to data compiled by Myers & Stauffer LC, an accounting firm that works as a contractor for the state Medicaid program.
And nursing home operators say those data don't capture all their expenses, because state regulations stop counting expenses that run higher than pre-set caps.
"The Medicare and private pay is what keeps the doors open," said Scott Tittle, president of the Indiana Health Care Association, which represents nursing homes around Indiana.
Teaming with hospitals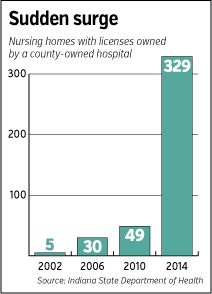 There are now 329 nursing homes—or 63 percent of all facilities in Indiana—receiving extra federal money via partnerships with county-owned hospitals, according to the Indiana State Department of Health. The hospitals purchase the license of each nursing home from its operator, then typically hire the nursing home operator to manage the facilities, paying them a fee to do so.
This arrangement generates extra money because of a wrinkle in the payment policies of the federal/state Medicaid program. Medicaid rules allow governmental entities—which county-owned hospitals are—to pay their state Medicaid agencies extra fees that will trigger higher federal matching funds, up to a point that lets them receive the maximum federal payments.
Because the Indiana Medicaid program pays nursing homes at rates well below the maximum federal rate, the difference is quite substantial—$71.54 per day, according to an analysis by Myers & Stauffer. For the 267 nursing homes participating in the program at some point last year, that added up to a whopping $312.7 million.
Technically, that money all goes to the nursing homes—at least initially. Each year's payments must be kept in each nursing home's operating accounts until the end of the fiscal year. At that point, the money is split between the hospitals and the nursing homes according to the terms of their partnership.
In some cases, all the money is staying with the nursing homes. For example, Larry Heydon, CEO of Johnson Memorial Hospital, said last year his institution left all the money with the 33 nursing homes it now owns, which are managed by Warsaw-based Miller's Health Systems.
That was a total of $18.8 million in the 12 months ended June. 30, according to the Myers & Stauffer analysis.
But Riverview Hospital, in Noblesville, has agreed to pay a management fee to Bloomington-based CarDon & Associates, from which it purchased the licenses of several nursing homes in 2011. According to Riverview's 2011 financial statements, CarDon receives a base fee of 2 percent of the net patient revenue at the nursing homes as well as the profits of those facilities up to a maximum of 4.5 percent.
The second provision of that contract simply replaces the net income CarDon had been earning—which now technically belongs to the hospital, as official owner of the nursing homes.
So if CarDon had been earning industry-standard profits of 2 percent, its deal with Riverview would boost its total margin from 2 percent to 4 percent.
Among all nursing homes owned by a governmental entity last year, that bump would have generated $36 million in additional revenue, according to Myers & Stauffer data.
This year, with 80 more nursing homes participating in hospital partnerships than a year ago, that revenue—which is also pure profit—will only go up.
Cloudy future
But the extra money hasn't made nursing home operators more confident in the future of their industry. On the whole, they expect demand for their services to remain flat or somewhat down in future years.
And there are statistics to back them up.
Occupancy among Indiana's 520 nursing homes is only 74 percent and has been falling. Nationwide, nursing home occupancy is nearly 86 percent but also has been slipping in recent years.
Even with 35 new nursing homes being built in the past five years, the number of Hoosiers staying in them has been flat for nearly a decade and actually dipped last year, according to data from the Indiana Family and Social Services Agency.
And seniors still report—in overwhelming numbers and with aggressively negative sentiment—that they will do anything to avoid staying in a nursing home. That has fueled growth of home health care and assisted-living facilities—which do not offer the intense medical services nursing homes do.
In that light, halting construction makes sense, said Vince McGowen, a nursing home veteran who recently became head of governmental relations for Indianapolis-based nursing home operator American Senior Communities.
"We are trying to rebalance Indiana's long-term-care delivery system," McGowen said.
And Tittle, the head of the nursing home association, said only a moratorium will give nursing home owners the confidence that they can invest to upgrade their facilities—rather than needing to hoard cash in case a competitor invades their territory.
"This is a fiscally responsible way to curb unneeded growth in our industry," Tittle said. "A stabilization program will better prepare our industry for the future."
Zeke Turner, CEO of Mainstreet Property Group, says the nursing homes his company builds, like this one at 56th Street and Georgetown Road, serve untapped customers. (IBJ photo/Aaron P. Bernstein)
But Turner, the CEO of Mainstreet, thinks his competitors are leaving patients unserved and customers untapped.
Before building each of his facilities, Turner purchases hospital discharge data that can be sorted by the ZIP codes of each patient's residence. He looks for those receiving discharges that would qualify them for a stay in a nursing home.
And according to his data, there are two, three and sometimes even four patients who return home for every one actually going to a nursing home. His conclusion? If he builds a more attractive facility, he can draw in some of those patients who now are heading home.
"We assumed, like everyone else did, that nursing homes were capturing 100 percent of the demand in a local marketplace," Turner said, sitting by a faux fireplace in his most recently opened facility, in Castleton. "Turns out, I was totally wrong, completely wrong, in my assumptions."
That's why Turner thinks he can keep building nursing homes—he announced plans this month for 24 new facilities during the next three years—without posing a significant threat to his competitors' business. Turner noted that his four facilities that have been open at least two years have a healthy occupancy rate of 90 percent.
But other nursing home operators say Turner is dreaming if he thinks he is opening up new sources of customers.
"I work and have worked for some extremely bright guys. And they typically don't miss market share. When you operate at a 2-4 percent margin, you don't miss much," McGowen said. "There are not large segments of market-share opportunity that we drive by every day."•
Please enable JavaScript to view this content.