The Pence administration has overseen the six-figure renovation of a Brown County cabin that one political observer calls Indiana's Camp David.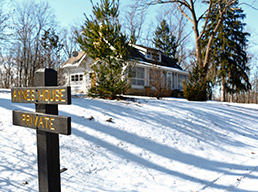 The state has owned the house since 1939, when it was about 10 years old. (IBJ photo/Aaron P. Bernstein)
Gov. Mike Pence and his family will be the first since former Gov. Evan Bayh to make regular use of Aynes House, a gubernatorial vacation home in Brown County State Park. The five-bedroom cabin received $162,000 in major maintenance work, interior remodeling and new furnishings last fall and has already hosted a gubernatorial staff retreat.
"We love family time and the outdoors, so being together in an Indiana state park is one of our favorite things to do," first lady Karen Pence said through a governor's spokeswoman.
The Pences, whose three children are in college, haven't planned any events or gatherings for the cabin since the remodel, governor's spokeswoman Kara Brooks said, but the first lady made it clear they plan to take advantage of it.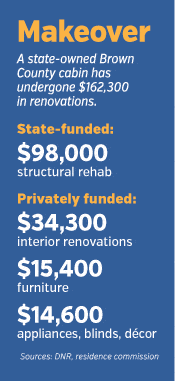 "We are proud of the work that was done at Aynes House, and we love going down there," she said through Brooks.
Both Mike and Karen Pence have been visiting Brown County since their childhoods and have spent several nights at various state parks since the 2012 election, Brooks said.
"I like the concept that Indiana governors have a retreat, and this in the state's flagship park," said Brian Howey, publisher of Howey Politics Indiana. "It's like a state version of Camp David."
Named for the family that built it, Aynes House dates to the late 1920s or early 1930s and became a state asset in 1939, according to the Department of Natural Resources.
There's little recorded history on the house, said Dan Bortner, director of the Division of State Parks and Reservoirs.
"My belief is, this thing was acquired to be a governor's retreat," Bortner said. He noted that another gubernatorial vacation home at Indiana Dunes was torn down in the 1930s.
The cabin, one of four houses in Brown County State Park, is among 2,000 buildings for which the DNR is responsible. It had not been updated in decades, Bortner said, which was apparent from the rotary-dial phone on the wall.
The first time Bortner walked through Aynes House was in 2006, and he found in one of the bedrooms two cribs that were used by the Bayh twins, born in 1995.
"That's how often we rehab these things," he said.
The Aynes House received more than a face-lift. With Pence looking to reserve the cabin for his personal use, Bortner said he asked the governor to hold off until the DNR could address some serious deferred maintenance.
The work included fixing leaks in the roof; updates to the septic system, heating and cooling, and wiring; and installation of an emergency exit in the finished basement. The DNR also replaced porch screens and the water line, and conducted mold and radon testing.
The total cost came to $98,000, Bortner said. The DNR saved money by keeping much of the work in-house and using Department of Corrections crews, he said.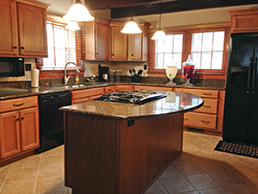 A remodeled kitchen was among changes made to the governor's retreat in Brown County. (Photo courtesy of Indiana Governor's Office)
Interior remodeling was approved by the seven-member Governor's Residence Commission and paid for with private donations, raised by the Governor's Public Building Foundation. That work, totaling $34,266, included a kitchen remodel and new tile in the bathrooms, said Brenda Gerber, who until recently was chief of staff to Karen Pence. The house also received new blinds, furniture and appliances.
The cabin has modern amenities, including high-speed Internet access. Among the new appliances are three flat-screen TVs.
Overseeing the remodel, the first lady kept the décor rustic and added one personal touch, Gerber said. An accomplished watercolorist, Karen Pence painted a picture of Aynes House, which was added to the on-site art collection.
The building foundation, chaired by Republican fundraising heavyweight Bob Grand, has found enthusiastic support for making both the governor's mansion on Meridian Street and Aynes House more comfortable.
In-kind donations of furnishings for both the mansion on Meridian Street and Aynes House were worth $35,657, exceeding the residence commission's requests for 2013, according to a report from the foundation.
Unlike former Gov. Mitch Daniels, who had a waterfront home in Geist and later built a new house in Carmel, the Pences are living full time in the governor's mansion. They sold their home in Columbus last spring.
Each new governor gets a briefing on state park lodges and golf courses that will be available for their personal use and for entertaining dignitaries, Bortner said. Most of them have never heard of Aynes House, he said.
Neither the late Gov. Frank O'Bannon, who vacationed on his own property near Corydon, nor his successor, Joe Kernan, who hails from South Bend, spent much time at Aynes House.
Daniels opted to take the cabin only on an as-needed basis, so it became available for rental by the public, Bortner said. The DNR didn't advertise Aynes House but offered it as an overflow space for Abe Martin Lodge, he said.
Howey, who lives in Brown County, said the DNR should open Aynes House to public tours once in a while.
"It could be a learning experience for the kind of cabin lifestyle unique to Brown County," he said. "There are tours of similar homes around Nashville. It would be greatly appreciated if the people could have occasional access to this cabin."
Now that the Pences have Aynes House at their disposal, there's no turn-down service by park staff, Bortner said. "I don't know whether the governor or Mrs. Pence does the laundry, but someone on the site does it."•
Please enable JavaScript to view this content.