Fishers residents have said they want the fast-growing suburb to become a city. Now they need to choose its chief architect—and set the tone for future development.
The six Republicans vying to be Fishers' first mayor are a diverse group, with a wide range of experience and ideas. But when it comes to the key issue of growth, they fall into two camps: those who support recent efforts to spur business activity downtown, and those who advocate a more hands-off approach.
Former Town Council President Walt Kelly has been critical of the focus on (and investment in) downtown redevelopment, saying Fishers is "giving away valuable land in exchange for added congestion," diverting much-needed revenue from schools, and abandoning a plan to develop neighborhood-oriented commerce centers.
"Downtown Fishers should remain primarily a transportation corridor with small shops and limited obstruction," Kelly, 64, said last month.
Current Town Manager Scott Fadness, meanwhile, believes in building a vibrant, walkable core to draw both the businesses that create jobs and the educated workers they want to hire. Since Fishers' phenomenal growth has been largely residential, he said it's important to attract the right kind of commercial development in the future.
"The idea that we should just let things just happen to us, just let it go, is a disservice to future generations of Fishers residents," said Fadness, 31. So he changed his career trajectory to run for office in hopes of building on recent momentum.
Downtown development is not a new concept. Indeed, grand plans for the heart of Fishers have been bandied about for decades. But after turnover on the council in 2012—the year after Fadness was hired to manage day-to-day operations—officials began working to bring the vision to life.
Early last year, the council selected developer Flaherty & Collins to build The Depot at Nickel Plate, a $42 million apartment-and-retail project on town-owned property along 116th Street in front of Town Hall. Fishers contributed the land and $11 million for a parking garage.
This month, members pulled the trigger on a $28 million mixed-use development on the site of the Fishers Train Station, agreeing to give Loftus Robinson Development about 3-1/2 acres and up to $9.5 million toward a garage and other public improvements.
Other town-backed projects include a $17.5 million office-retail building with structured parking that Fishers Urban Development LLC has planned for the corner of 116th Street and Lantern Road, and a $5.5 million headquarters that Meyer Najem is building just across the railroad tracks from the Fishers Public Library.
Mayoral candidate Renee Cox, who is serving her first term on the council, has supported the focus on downtown, which she calls a "proactive, controlled, well-thought-out approach" to development.
"We've been very aggressive to show developers that we're serious. … We're not just talking anymore," said Cox, 43. "It takes more than that, especially with tax caps and these economic times, to sustain the services this community has come to know, appreciate and expect."
All told, the four projects are expected to add almost $48 million in assessed value to the town's tax rolls, Community Development Director Tom Dickey told the Town Council on Feb. 17. Once the town's contributions are paid off, that means more money for Fishers and its public schools.
Free-market mind-set
Kelly is just one of the mayoral hopefuls who isn't sold on the idea of using public money to spur private development, especially in such a narrow geographical area—making it clear Fishers' future direction depends in large part on who's holding the reins.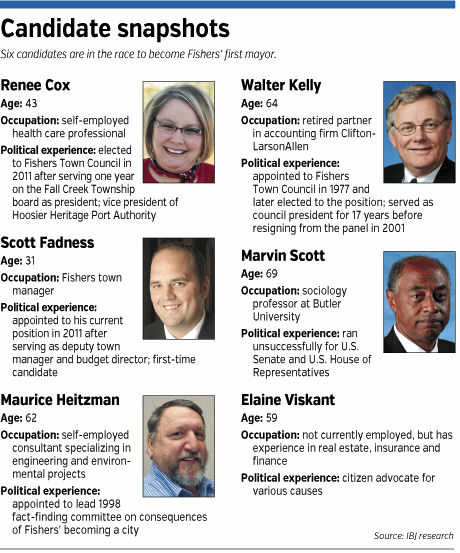 Engineering consultant Maurice Heitzman thinks Fishers is a desirable enough community that it should offer economic development incentives only in "special cases," like when it has the chance to land a major employer like Sallie Mae. And even then, he'd rather see tax abatements than financial inducements.
"I'm not a fan of the city buying property and then making it available to developers," said Heitzman, 62. "I think we should only be using taxpayer money as a last resort, not a first option."
Self-described "background activist" Elaine Viskant, 59, likewise thinks Fishers' prime location, upscale demographic and educated work force should draw companies' interest. And with so much land still undeveloped, she reasons, there's no reason to "buy out or mow down" existing properties to build something.
"There's still open ground left that they could develop," she said.
Butler University sociology professor Marvin Scott, meanwhile, wants to find a way to establish Fishers as an "incubator for tech development" without offering incentives or borrowing money. His ideas range from finding local suppliers for local businesses to importing scientists from India to help get companies up and running. Scott said he will seek additional input if he's elected.
"I don't have all the answers," said Scott, 69. So he plans to appoint a "blue-ribbon committee" to do a needs assessment and help put together a comprehensive plan to address everything from business to education. "Until then, I'm just speculating."
'Location, location, location'
Kelly, who led the Town Council during Fishers' population explosion in the 1980s and 1990s, said the community has grown because of its family-friendly atmosphere, quality schools and amenities like parks and trails—not its thriving downtown or financial incentives.
He left the council in 2001 to focus on his day job as the managing partner of a local accounting firm and is seeking to return to local politics after retiring late last year.
"For a growing community, it's all about location, location, location," he said. "You don't have to give away anything. If no one is stepping forward, there's no market. … Let the developers figure out how to make it work. I have faith in the free enterprise system."
That hands-off philosophy may have gotten Fishers this far, but Fadness said a strategic approach will help the city build a more sustainable future.
"We allowed it to develop at the whims of the market, and look where we are," he said. "We're out of balance today, and if we don't change that we're going to run into serious financial problems. Not today or tomorrow, but 10 or 15 years from now."
Local site-selection consultant Jay Walters has been encouraged by the strides Fishers has made in recent years—and voters' 2012 decision to become a city with an elected mayor. Cost is a key consideration when businesses are choosing a location, he said, and communities have to be responsive if they want to remain competitive.
"There are plenty of other communities that are being aggressive, doing creative things," said Walters, a principal in Fishers-based FairWinds Advisors, which works with businesses nationwide.
Although Fishers is an attractive place to do business, he said, "if it's cheaper for a company to go a county over, that's something they'll look at. … Some of the development we're seeing in downtown Fishers would not have happened without an aggressive strategy."•
Please enable JavaScript to view this content.