Online physician visits could become far more common in Indiana this year under a bill pending in the Indiana General Assembly.
House Bill 1258 would allow the large health insurer Anthem Blue Cross and Blue Shield to launch a pilot program using the Live Health Online technology it has developed with Massachusetts-based software firm American Well Corp.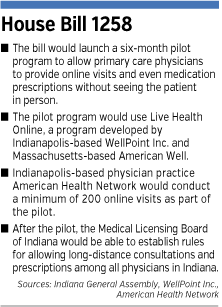 The technology—which allows doctors to make virtual house calls via a Skype-like video and chat portal—would expand access to health care by making physicians available at odd hours and to patients in far-flung areas.
The pilot would be conducted by primary care physicians at Indianapolis-based American Health Network, a large primary care physician practice. The pilot could last as long as six months and would involve at least 200 online visits.
The bill, which has cleared the House and been referred to the Senate Health and Provider Services Committee, also could lead to other pilot programs to test online visits.
After the pilot phase, the Medical Licensing Board of Indiana then would be able to decide whether to expand online visits statewide and under what restrictions, if any.
"We believe that this online service offers greater flexibility to primary care physicians," said Dr. David Lee, vice president of provider engagement and contracting at Indianapolis-based Anthem.
Online physician consultations have been allowed in Indiana for more than a decade. But since 2003, the Medical Licensing Board has restricted those visits to patients and doctors who already have had an in-person encounter.
HB 1258 would remove that restriction, allowing doctor-patient consultations where no previous relationship existed.
It's that removal that the Indiana State Medical Association, which represents physicians, isn't completely sold on yet. The association supports the pilot and will be eager to see the data from that experiment, said Mike Rinebold, a lobbyist for ISMA.
"We're cautious on it," he said. "There's a strong belief that a key to providing quality health care is the physician-patient relationship."
ISMA has worked with Anthem and American Health to create the pilot program and to push through the legislation.
American Well offers online visits in 44 states, although only about 30 of them allow visits without a previous in-person encounter.
But Anthem sees online visits as a key piece of a broad transition in health care toward serving more patients more efficiently. Anthem will pay $49 per online visit, Lee said, which is lower than the $68 average for an in-office visit. In addition, a chunk of that fee goes to American Well to pay for its technology.
Lee sees online visits as a way for physicians to extend their reach to geographic regions without enough physicians. Seventeen of Indiana's 92 counties suffer shortages of primary care professionals—which includes physicians, nurses and others.
Online visits also could allow physicians to serve patients after hours. That could help reduce unnecessary visits to the emergency room, Lee noted, although HB 1258 restricts online visits to non-emergency situations.
Online visits also could benefit aging physicians, allowing them to remain active without bearing the full burden of running a brick-and-mortar practice, Lee said.
Aging baby boomer doctors are retiring in greater numbers, right as baby boomers create a boost in demand for health care. In addition, Obamacare's tax subsidies could increase insurance coverage, which could also lead to greater use of health care.
"It's an important part of health care reform and the continuing transition of health care to a value-based system from a volume-based system," Lee said.
Rinebold, however, said it's at least possible that online visits could further fragment the health care that patients receive—which has been shown to increase rather than reduce costs.
If a patient who normally sees an office-based physician does an after-hours online visit with a different physician, there could be gaps in that patient's care.
The Live Health Online technology tries to counter that trend by generating electronic patient records and making them available to a patient's other caregivers in a way that complies with federal privacy laws.
Dr. Ben Park, CEO of American Health Network, said his practice has trained seven physicians to conduct the pilot. He said he hopes the pilot helps physicians and insurers do a better job of caring for patients with chronic diseases.
"It's a baby step, where we're going with this," Park said.•
Please enable JavaScript to view this content.