The Indy Eleven, the city's new professional soccer team, won't play its first game for nearly seven weeks. But officials with the North American Soccer League franchise say there's already an urgent need to plow ahead with building the team an $87 million stadium.
The team plans to play its first two seasons in Michael A. Carroll Stadium on the IUPUI campus. But Indy Eleven owner and local real estate developer Ersal Ozdemir said a prolonged stay in the 32-year-old track and soccer venue could kill his franchise's momentum.
Ersal Ozdemir hopes to soon move his soccer team into a new venue, which he says will pay for itself. (IBJ photo/Aaron P. Bernstein)
"It will be like an NBA team playing in a high school gym," said Ozdemir, president of locally based Keystone Construction Corp. "There are some nice high school gyms in Indiana, but you don't get the full experience that you would in an NBA arena. It's the same for us."
Ozdemir is spending more than $1 million to spruce up the IUPUI venue, but he said it's only a temporary solution.
Some in the soccer business agree that a new stadium could be the difference between thriving and certain failure.
"A new stadium completely redefines who you are as a business," said Jake Reid, chief revenue officer for the Major League Soccer franchise Sporting Kansas City.
Sporting Kansas City has seen its attendance jump from 10,287 to 19,709 in the three years since its venue opened in 2011. The team's season-ticket revenue increased 450 percent, sponsorship 300 percent, and annual revenue 530 percent during that period, Reid said.
Despite overlapping seasons with Major League Baseball's Kansas City Royals, Reid said, "All of our lines of business saw triple-digit growth right off the bat."
A new stadium might be good for the team, but the financial benefits for the city would be nil, argued Mark Soskin, an economics professor who has taught sports economics at the University of Central Florida.
He has seen the debate up close in Orlando, where city officials in October voted to pay $20 million and neighboring communities chipped in another $24 million toward an $84 million soccer stadium that will be home to an MLS expansion franchise.
Soskin thinks revenue generated by a new facility will come from within the existing market, "because attendance [for that team] is almost always from the immediate metropolitan area."
Not everyone shares Soskin's harsh assessment. Ozdemir received a warm reception from state lawmakers on Feb. 14 when he pitched his plan to capture state tax revenue generated by his proposed, 18,500-seat stadium to help pay the cost of building it. The House Ways and Means Committee on Feb. 20 voted 18-2 to advance the measure to the full House.
Ozdemir proposes assessing a 10-percent tax on tickets for soccer games and other events held at the new venue, which he believes will raise the $5 million needed annually to make payments on 30-year construction bonds that would be sold to finance the project. He said that if the ticket tax fell short of $5 million in the first couple of years, sales tax and income tax generated at the venue could be used to make up the difference. He said any tax generated over $5 million would go back to city and state coffers.
Within a few years after the stadium opened, Ozdemir projected, $5.1 million would be raised through the ticket tax and another $4.1 million in sales tax. He said a much smaller amount would be raised through income tax.
"The stadium would be paying for itself," Ozdemir said. "No other tax dollars would be needed and in fact we believe a lot of tax dollars are going to be returned to [local municipalities]."
To raise $5 million annually through the ticket tax, Ozdemir said the team would have to average 17,500 per game for its 14 home games. Other ticket-tax money would come from events like concerts, college soccer matches and high school football games.
Mayor interested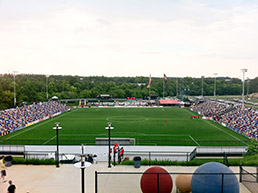 The Silverbacks FC's stadium in Atlanta shows the preferred set-up for soccer, with many front-row seats close to the field. Seats at the IUPUI stadium are 60 feet from the field. (Photo courtesy of Wikimedia Commons)
Mayor Greg Ballard likes the idea of a new stadium, "if the financing comes together," said the mayor's spokesman, Marc Lotter. "The mayor supports having amenities and attractions that will draw people and businesses to this city."
Ozdemir, who wants Indy Eleven's stadium to be downtown, has forwarded a confidential proposal to redevelop the former General Motors Stamping Plant, near the Indianapolis Zoo. But city officials said until state lawmakers approve a financing package for the venue, talk of a possible site is premature.
Although a trust overseeing former GM plants across the country has final say on what will go on the Indianapolis site and who will develop it, the mayor also will have input. If city officials aren't on board with helping finance a project, the trust isn't likely to approve it.
Four finalists, all locally based, are vying to redevelop the property along White River. Besides Keystone, they are Ambrose Property Group, Buckingham Cos. and REI Investments.
Wherever a soccer stadium were built downtown, Ozdemir said, the city's Capital Improvement Board should own it.
"That way you can get a favorable bond rating and lower interest rate for the money needed for the project," he said.
Lotter said the mayor would be open to that arrangement.
Ozdemir hopes a new venue can be open in time for the 2016 season.
While the city pays millions of dollars each year to help operate Bankers Life Fieldhouse, home of the Indiana Pacers, and Lucas Oil Stadium, where the Indianapolis Colts play, Lotter said the new soccer venue might be run more like Victory Field.
The Indianapolis Indians pay for all Victory Field operations, upkeep and improvements and also pay the city $500,000 annually in rent.
Lofty expectations
Ozdemir has a number of powerful people in his corner, but skeptics think the project is premature.
"Look at how many [Major League Soccer] teams average 17,500 in attendance per game," said David Morton, an Indianapolis-based sports marketer who formerly worked for MLS in player marketing. "That's a challenging mark to achieve for any soccer team."
Last season, 11 of 19 MLS teams averaged more than 17,500 per home game. MLS is considered the highest level of professional soccer in North America. The NASL, where the Indy Eleven play, and the USL Pro league are the next-highest level.
Morton questioned how the Indy Eleven can expect to draw 17,500 per game when the MLS' Chicago Fire drew only 15,228 per game last season.
"That's a higher-quality soccer with better players in a much larger market," said Morton, president of Sunrise Sports Group. "Soccer certainly has a place in the Indianapolis market, but any commitment by city and state officials requires a lot of research and due diligence."
But Ozdemir thinks his team has proven its value to the community.
"We've taken deposits for 7,000 season tickets, and we could have sold out our current venue—all 11,000—if we hadn't capped [season ticket] sales," Ozdemir said.
Even Morton admitted the early season-ticket sales are remarkable.
"They've exceeded the support I thought was available in the Indianapolis market," he said. "Now they have to prove they can sustain it."
Big problems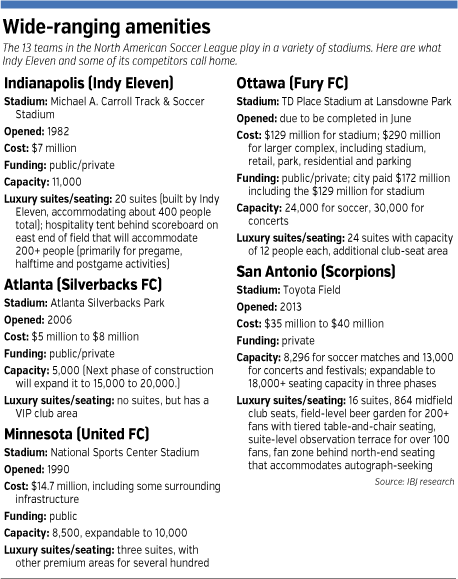 Three primary segments, Ozdemir said, are leading to a growing soccer fan base in Indiana and the United States: youth soccer players; millennials, who were among the first wave of people to go through U.S. youth soccer programs; and a growing number of soccer-loving immigrants coming to this country.
"We have 32,000 Facebook followers and people from all around the city and across the state telling us they can't wait to come to our games," said Indy Eleven General Manager Peter Wilt, who was the founding president of the MLS' Chicago Fire. "This groundswell is absolutely sustainable, but we have to give [fans and sponsors] a great experience."
Though they're grateful for the use of the IUPUI facility, Wilt and Ozdemir said they may have difficulty not only retaining sponsors and fans, but also attracting players while playing there. When prospective players come to town, the stadium is the last thing Indy Eleven officials show them.
While Ozdemir's Keystone Construction is planning to build 20 suites—accommodating 20 people each—along the New York Street side of the stadium and to put another corporate entertaining area behind the scoreboard on the east end, team officials said those offerings fall short of the corporate entertaining experience they'd like to provide.
"We've been able to attract sponsors like Honda and The Finish Line, but we have to work to keep them in this competitive market," Ozdemir said. "Bringing in the corporate money is key to keeping ticket prices for fans down."
Five thousand temporary seats will be installed at the Carroll stadium to bring capacity to 11,000. Because of the presence of the running track, the vast majority of those seats are more than 60 feet from the field. Most professional soccer stadiums have seats within 18 feet of the field.
The stadium has no permanent concession stands, ticket offices or merchandise sales areas. The locker rooms have no running water or functioning heating and air-conditioning.
While the IUPUI soccer field is made of a high-end turf, most soccer fields are natural grass. Wilt said attracting top players will be difficult without a grass field.
"The amenities of this facility are simply not up to what fans and players expect," Wilt said. "You can get away with it for a certain amount of time, but you have to show them there's some payoff at the end of the rainbow."
And there's another thing a new stadium allows Ozdemir to consider: someday moving his team to the MLS, which requires a minimum of 18,500 seats. The venue Ozdemir wants would be expandable to 30,000 seats by adding an upper bowl. He said the venue also would help the city attract a number of major college, amateur and professional soccer events.
"Joining the MLS is certainly possible at some point," Ozdemir said. "But for right now we simply want to focus on having a first-class venue. That's a big step in making this operation major league."•
Please enable JavaScript to view this content.