The rush of drivers trying to enter a new vintage car race at the Indianapolis Motor Speedway was so fast and furious that the event promoter has been forced to turn away many of them.
Sportscar Vintage Racing Association CEO Tony Parella was prepared to admit 600-plus classic cars for the inaugural Brickyard Vintage Racing Invitational on June 6-8. He received nearly 1,000 requests in the first eight days after the event was announced Feb. 4.

Parella
"The outpouring has been absolutely phenomenal," Parella said. "We've gotten requests from members and non-members from all over the U.S. and around the world. We're expecting a monumental turnout."
Parella knew demand to race at the venerable IMS would be big, but "it's even exceeded what I'd imagined," he said. "Unfortunately, I'm going to have to be the bad guy and tell some of these people they can't race. The demand is simply much higher than the slots we have to offer."
Tim Suddard, publisher of Florida-based Classic Motorsports magazine, saw the rush coming. A vintage car racer himself, he said the minute he heard of the event, he started rearranging his schedule so he could come to Indianapolis.
"I think the idea [of racing at the Indianapolis Motor Speedway] is compelling, and will definitely resonate well with my fellow racers," Suddard said.
SVRA officials are promising real racing at the IMS event. Some of the drivers will be amateurs, while others are likely to include former Indianapolis 500 drivers and retired Formula One and NASCAR stars. All the drivers, Parella said, will be accessible to the fans.
Cars will compete in 13 classes. The races will showcase a variety of speedsters, including those that competed in past Indianapolis 500s, cars from the NASCAR Sprint Cup and Nationwide Series, Formula One racers, Grand-Am prototypes and Trans-Ams.
Vintage racers typically stick to road courses, but the Indianapolis event will give them a rare chance to strut their stuff on an oval. Both the IMS' 2-1/2-mile oval—on which the Indianapolis 500 is contested—along with its road course will be used for this summer's event.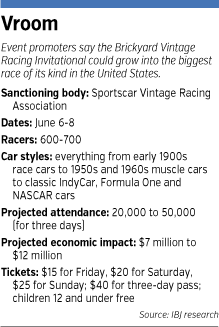 Parella thinks the event could quickly become the world's largest vintage car race, but added that it's a little more difficult to project how many spectators will come to the Speedway to watch.
Big vintage car races at well-known tracks such as Watkins Glen have typically drawn 10,000 to 20,000 paying fans.
Parella predicted at least 20,000 will show up over the three days in Indianapolis.
"That's being conservative," he said. "I think we could really surprise some people."
Officials for Visit Indy, the city tourism marketing arm, think about 25,000 spectators could descend on the Speedway for the event, "with a strong drive-in regional presence," said Visit Indy spokesman Chris Gahl.
The Monterey Motorsports Reunion held in California each August, one of the world's biggest vintage car racing events, last year drew more than 50,000 spectators over three days. That event charged spectators considerably more ($50 for one day and $130 for a three-day pass) than the Indianapolis event, which will charge $15 to $25 for a single-day admission and $40 for a three-day pass.
Although Visit Indy hasn't predicted an economic impact for this event, local hospitality experts say it will be in the $7 million to $12 million range the first year, with the possibility of swelling to $20 million.
Tim Frost, a Chicago-based motorsports business consultant, said the new event "has quickly gained the attention of vintage car racers from coast to coast."
Many of the drivers are wealthy business executives or owners, "but it really runs the gamut," Frost said. "And the fan base is very diverse, from white-collar folks to working-class lovers of cars, racing and history."
SVRA said the average net worth of its member-racers is about $4 million.
"From an economic impact and exposure standpoint, I think Indianapolis will find this is a very good group of individuals to draw in," Frost said.•
Please enable JavaScript to view this content.