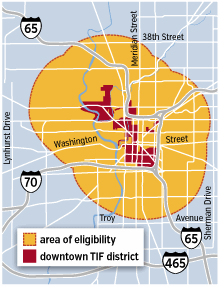 Marion County's WorkOne agency is looking for employers to partner in a $1.5 million training program that's focused on downtown and surrounding neighborhoods.
The money comes from the downtown tax-increment-financing district as a result of a political compromise over its expansion. In 2012, Democratic City-County Councilors Vop Osili and Joe Simpson agreed to push through the TIF district expansion if some of the revenue would create economic opportunities for their constituents.
The training funds are available to employers and potential workers within the TIF district's boundaries, or within a two-mile margin around those boundaries. The TIF district now extends northeast of downtown along Massachusetts Avenue and northwest along Indiana Avenue and 16th Street. The two-mile offset captures several neighborhoods including Garfield Park, Brookside Park, Riverside Park and Haughville.
This is the first time WorkOne, or EmployIndy, has directed training money to such a tight geographical area, President Brooke Huntington said. EmployIndy hired a staff member to recruit partner employers and is working with community organizations to find eligible residents.
EmployIndy is already working with two companies: auto-parts maker Global Forming and IT help-desk consultants Computer Experts.
Please enable JavaScript to view this content.