Finalist: Community Achievement in Health Care
Patient Health Coaching, Franciscan Visiting Nurse Service
 For the Patient Health Coaching program offered by Franciscan Visiting Nurse Service, good outcomes are all about proper staffing.
The program, started in November 2012, has a singular goal: keeping patients with chronic conditions from being readmitted to the hospital. By remotely monitoring vital signs and weight, Patient Health Coaching identifies and heads off trouble for people with conditions such as congestive heart failure, chronic obstructive pulmonary disease and coronary artery disease.
The remote monitoring isn't new, said Mike Puskarich, vice president of Franciscan Visiting Nurse Service.
"We'd had a monitoring program for several years," he said. But it wasn't effective until the right people got involved. The right people, he said, are the dozen or so professionals, mostly former critical care and emergency room nurses, who not only monitor patients' vital signs but interact with the patients on a regular basis.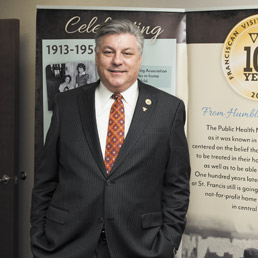 Mike Puskarich (IBJ Photo/Eric Learned)
That's where the coaching comes in, and that's what was missing from the program before.
The Patient Health Coaching program combines the best of a bare-bones monitoring service and more costly home health services, said Puskarich, who describes the program's nurses as part clinician, part behavioral health specialist and part physician liaison.
Patients referred to the program are typically admitted for at least 90 days to begin with, the minimum required to educate them about their illness, familiarize them with the program itself, and get them into a routine.
It begins with an in-home visit for an evaluation and a reconciliation of medicine lists. Puskarich said it's not uncommon for a patient to have multiple lists containing conflicting medications, a problem that can occur when a patient sees multiple doctors on a regular basis. Program staff will also accompany patients to doctor visits if there is no one else to help the patient know what questions to ask and remember the answers.
The in-home visit also serves to introduce patients to the equipment the program provides: a tablet computer and accessories that track blood pressure, pulse/blood oxygen levels and weight. The equipment monitors patient vital signs daily and at a consistent time, and transmits the data via land line and mobile phone. Results are monitored seven days a week by nurses who can recognize changes and initiate early intervention.
The program also involves daily or twice-daily phone calls to the patient.
Puskarich said there are about 200 patients in the program. Franciscan Visiting Nurse Service doesn't collect money from the patients. It's paid by the Accountable Care Organization it is part of. ACOs are groups of health care providers that agree to be accountable for the quality, cost and overall care of the patient populations they serve.
The cost of hospital readmissions among Medicare patients is estimated to be $26 billion a year, and the Centers for Medicare and Medicaid Services calls avoidable readmissions a leading problem facing our health care system.
The Patient Coaching Program and others like it are making headway. Shortly after the program was started, Franciscan Visiting Nurse Service noticed a decrease in 30-day readmissions for heart failure and pneumonia. Overall results showed just a 5-percent readmission rate and 100-percent physician appointment compliance among patients in the program.
The savings aren't insignificant. Over 90 days, the coaching program costs about $2,000 a patient. The cost of readmission per patient is closer to $15,000.•
Please enable JavaScript to view this content.