Finalist: Community Achievement in Health Care
Timmy Global Health
 Timmy Global Health can't help all of the world's underserved people get the access they need to health care, but today it's making a huge difference for people in the six countries it serves. And tomorrow its army of college-age volunteers is likely to help solve health care disparities in other parts of the globe.
The Indianapolis not-for-profit has a staff of just six at its modest office near 22nd and Meridian streets and six others working abroad. Its strength is in the almost 50 groups of student volunteers who belong to Timmy Global Health college chapters from coast to coast, from the University of California-Davis to Tufts University in Boston. There are chapters at most Indiana college campuses and at 10 high schools, most of them in or near Indianapolis.
This year, Timmy Global Health expects to send 600 to 700 of its student volunteers abroad to bring health care services to the poor in Ecuador, Guatemala, the Dominican Republic, Nigeria and El Salvador. It also works in Indianapolis and other parts of the United States.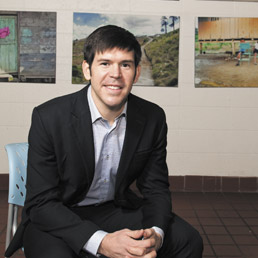 Matt MacGregor (IBJ Photo/Eric Learned)
Most would call these "mission" trips, but Timmy Global Health's executive director, Matt MacGregor, avoids that term because he thinks it implies a program that is less comprehensive than the one Timmy Global Health offers.
Going on a trip and helping people with their medical needs is just the tip of the iceberg, he said. Unlike most mission trips, the care doesn't stop when the trip is over. "Our volunteers feel confident that the people they see are part of a system that provides follow-up care."
Timmy Global Health brokers relationships with local hospitals and health clinics that agree to provide ongoing care.
"We set up mini health systems that help get people from the original point of care to whatever they need," MacGregor said.
For example, if volunteers discovered a heart murmur in a child, a local partner hospital would do an electrocardiogram to see if follow-up care was needed. Timmy Global Health would provide transportation and, if necessary, translation services. And if it was determined that surgery was necessary, the organization would arrange for that through its local partners. A patient in Ecuador who was treated for a snake bite was under observation for months and is about to have surgery to save his leg.
Of the 14,000 people who took advantage of Timmy Global Health's services last year, 1,300 got follow-up care long after the student volunteers had returned home, MacGregor said.
To be effective, the organization has to be strategic about where it gets financial support and how it spends it.
MacGregor, who was picked by Timmy Global Health's founder in 2009 to put the organization on sounder footing, is careful to maintain a diverse funding base. Chase Bank, Lilly Foundation and the Christel DeHaan Family Foundation have been loyal supporters, he said, but "we don't live or die off of one big funder. We survive off a lot of $500 and $1,000 donations."
Its almost $6 million budget is supported by a host of fundraising activities carried out by its student volunteers. And it relies on donations of medicines and medical supplies that might otherwise be destroyed. Last year, it funneled $3.8 million of those supplies to global and local partners.
"We work hard to make sure our internal business model makes sense," MacGregor said. Timmy Global Health has a good sense for how many volunteer chapters it can support and how many countries it can serve. "Our core business is sending volunteers abroad," he said. "We only send them in a way that is sustainable."•
Please enable JavaScript to view this content.