Winner: Advancements in Health Care
Malaz A. Boustani, M.D., MPH, Associate Professor of Medicine and Director of the Innovation and Implementation Science Initiative, Indiana University School of Medicine
Dr. Malaz Boustani pursues health care innovations that matter, and that means finding improvements to our health care system that don't take 17 years to put to work.
That's the average time it takes for a lab discovery to reach the health care consumer, said Boustani, a geriatrician at the Indiana University School of Medicine. The average cost of that journey is more than $1 billion, and that's for the less than 14 percent of discoveries that make it.
Boustani, 42, has no patience for such long odds. He's been working for more than a decade at the school of medicine, the IU Center for Aging Research, the Regenstrief Institute and Eskenazi Health to find improvements in the delivery of health care that can be implemented more quickly and at lower cost to help older adults, particularly those with dementia.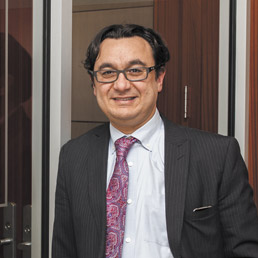 Malaz A. Boustani, M.D., MPH (IBJ Photo/Eric Learned)
For his numerous achievements, including the Healthy Aging Brain Care model, which has been adopted by other health systems in the United States and Europe, Boustani is the winner of the Health Care Heroes award in the Advancements in Health Care category.
The brain care model employs a variety of tools Boustani has created to improve care and reduce costs by reducing unnecessary emergency room visits and hospitalizations.
Among those tools are the Anticholinergic Cognitive Burden Scale, which he developed over the last four years to evaluate the side effects of common over-the-counter and prescription drugs on the aging brain. Boustani's team is finishing work on an app that allows the user to enter all medications being taken to screen for side effects and negative interactions and to find safer alternative drugs.
"The scale raises physician and patient awareness of the many drugs prescribed to older adults, such as many sleeping pills that cause cognitive impairment of the older brain," said Dr. Jay Hess, dean and vice president for university clinical affairs at the school of medicine, who called Boustani a "skilled researcher, prized mentor and dedicated clinician."
Boustani and his team also developed the Healthy Aging Brain Care Monitor, which Boustani describes as a "blood pressure cuff" for dementia. The screening, diagnostic and management tool was developed and launched within two years and is now in app form. It captures input in a simplistic way by allowing family care givers to enter information about behavior and cognitive function. Based on what is entered, doctors can detect situations that are creating a burden on the family.
Boustani was also instrumental in developing Web-based medical-records software that monitors the care of patients with dementia and depression. Like most medical-records software, it tracks activity by individual patient, but it simultaneously tracks results for a patient population of 3,000. By pressing a button, doctors can get a snapshot of the status of the entire population being tracked.
Boustani's innovations are driven by his interactions with patients.
"I can't stop seeing patients," he said, "because they are the source of my innovation." Every Monday, he sees patients at the Healthy Aging Brain Center at Eskenazi Health who come in for a consultation. Some are from central Indiana and work with him on a regular basis. Others come from across the country or overseas and see Boustani once or twice a year.
His work in both the clinical setting and the research lab is central to Boustani's quest to speed discoveries to patients. He relies on a broad, community-based network of researchers, patients, family members, community advocates, doctors and nurses to identify needs and find solutions.
Now he's in a position to spread the strategy to researchers and doctors who operate in other areas of medicine.
Boustani is head of the new Center for Health Innovation and Implementation Science, which, among its other activities, will embed researchers at four Indianapolis hospitals to make connections between problems faced by physicians and the work coming out of research labs. It will also work to attract scientists here who share Boustani's passion for speeding discoveries to the treatment room.
Boustani is also leading the nation's first randomized controlled dementia screening trial, known as the IU Choice Study, to weigh the benefits and risks of routine screening for dementia. The results of the five-year trial, which will involve 4,000 patients, should help policymakers, patients and families make informed choices as the U.S. population of older adults increases.
Today, 40 million Americans are over age 65. The number is projected to grow to 89 million by 2050, a leap that implies a growing need for Boustani's work.•
Please enable JavaScript to view this content.