Advancements in Health Care
Susan Hickman, Ph.D., Associate Professor of Nursing, Indiana University School of Nursing, and Gerald Walthall, M.D., FACS, Medical Director of Palliative Medicine, Franciscan St. Francis Health
 Dr. Gerald Walthall and Susan Hickman are from different generations, come from very different backgrounds and even have some political differences, but they joined forces four years ago in a quest to help the sickest Hoosiers die with dignity.
Walthall, 71, is medical director of palliative medicine at Franciscan St. Francis Health. Hickman, 43, is a geriatric psychologist and an associate professor of nursing at the Indiana University School of Nursing. Not long after she arrived here from Oregon in 2009, Walthall heard her give a talk about a model that had been employed in other states to help the very ill avoid going through costly and futile medical procedures at the end of life.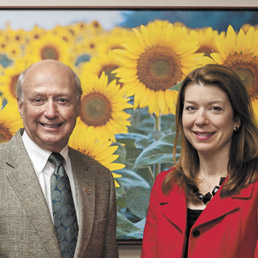 Susan Hickman, Ph.D. and Gerald Walthall, M.D., FACS (IBJ Photo/Eric Learned)
Walthall was intrigued and arranged a breakfast with Hickman and others who were interested in bringing the model to Indiana.
The result is the Physician Order for Scope of Treatment form, known as POST, which was approved by the Indiana General Assembly last year. The form, available to people who have a condition that is expected to end their life within a year, is a physician order that limits the lengths health care providers can take to save the patient's life. POST differs from an advanced directive or living will because it is a valid doctor's order that can be put into effect immediately.
The form is acted upon only if signed by a doctor, and it's signed by a doctor only after extensive discussion with the patient about the ramifications.
"It's not about what the kids want or what Mom wants; it's about what the person lying in the bed wants," Walthall said. But POST also benefits the family, Hickman said, by eliminating the stress of having to make difficult decisions at a time when emotions run high.
Before she came to Indiana, Hickman did research funded by the National Institutes of Health to study how similar forms have worked in Oregon, West Virginia and Wisconsin, and to identify states that lacked a way for the seriously ill to avoid unnecessary treatment.
Indiana was one of those states, and although Hickman didn't move here for that reason, her arrival certainly hastened the creation of the POST form in Indiana.
She and Walthall formed the Indiana Patient Preference Coalition to press the case with the Legislature. They were joined in the coalition by the Indiana State Medical Association, the Indiana Academy of Family Physicians, the Indiana Hospital Association, Indiana AARP and many other senior advocacy groups.
Now that the form is authorized and in use, the coalition has shifted its focus to implementation and education and is looking for an organization to take ownership and become the go-to source for information about POST.
In the meantime, doctors are being educated about making the form available to patients, and paramedics and others are being trained to look for the bright pink form when they come into contact with patients.
It might be three to five years before POST is fully implemented, Hickman said. She expects it to take that long to spread the word about the form, which is a version of what's now being used in about 16 states.•
Please enable JavaScript to view this content.