Finalist – Physician
Palmer MacKie, M.D., Clinical Assistant Professor, Department of Medicine at Indiana University School of Medicine; Medical Director, Health Integrative Pain Program, Eskenazi Health
 
Dr. Palmer MacKie sees his focus on helping patients manage their pain responsibly as an apology of sorts.
For years, he followed the accepted practice, which was to prescribe opioids, such as morphine, to mask pain. It wasn't just accepted, it was encouraged. By the early 2000s, the health care industry was so focused on pain relief that hospitals were evaluated and accredited based in part on their ability to relieve patients' pain.
MacKie (rhymes with sky) and his peers went along. There was always a message that the drugs should be used responsibly, MacKie said, but that was a warning too often ignored.
Patients, eager to do anything to feel better, asked for more drugs and got little pushback. By 2010, approximately 5.1 million Americans were abusing prescription pain medications and more than 16,600 died that year because of it, more than the number killed by heroin and cocaine combined.
MacKie's first clue that something was wrong didn't come from the data; it was based on his own observations.
"Everybody who came in on high doses was dysfunctional," he said. So he decided to do something about it, and for the last six years has led a movement to scale back the use of opioids by showing patients—and doctors—that there are better ways to manage pain.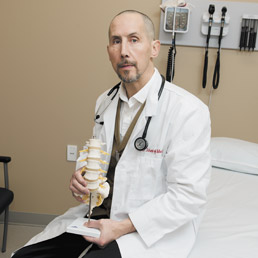 Palmer MacKie, M.D. (IBJ Photo/Eric Learned)
Perhaps the most tangible result of his work, other than the improvements he's seen in patients, is a set of new rules adopted last December by the Indiana Medical Licensing Board that now governs how prescription pain medications are dispensed.
As a charter member of the Indiana Attorney General's Prescription Drug Abuse Prevention Task Force, which was formed in 2012, MacKie helped develop the rules and push for their adoption.
"The number of deaths from painkillers had quadrupled since 1999, so the task force had to work quickly," said Indiana Attorney General Greg Zoeller. MacKie, he said, was instrumental in the effort.
Patients must now engage in a mental health assessment and must complete a pain assessment tool that goes beyond just asking, "Is your pain better?" Risks of the medications are more fully disclosed, and patients sign a treatment agreement. Indiana is now one of 17 states that require a signature from patients, but MacKie is most proud of the educational component. That's the key to getting patients on board.
As medical director of the Eskenazi Health Integrative Pain Program, MacKie sees patients, mostly indigent, who are scared to scale back their pain medications.
"They ask, 'If I lower my meds, what will happen to me?' I tell them they'll feel better."
MacKie takes a holistic approach, citing what's at stake physically—better aerobic function, more energy, better tolerance of stress—and showing patients how their personal strengths and values can play a role. For example, a lot of his patients have roots in Baptist traditions and feel better when singing or otherwise engaging with a faith community. Encouraging them to participate in such healthy activities is part of the program.
He also helps patients get past their fears, including concerns that any movement will make them hurt more.
"That is true initially," he said. "But you can break through that." He's had patients who were afraid to engage in any activities return to the things they love … fishing, painting, photography.
A woman once laid low by pain meds who benefited from MacKie's change in approach probably said it best in a note to him: "My family wants me to thank you for returning their mother."•
Please enable JavaScript to view this content.