Finalist – Physician
Paul Winchester, M.D., Medical Director, Franciscan St. Francis Health Neonatal Intensive Care Unit; Professor of Clinical Pediatrics at Indiana University School of Medicine
Dr. Paul Winchester is wrapped up in his work to find the connection between pesticide use and infants born premature or with birth defects, but it's really all about the babies, Winchester said.
"I love being able to give care to babies. I don't want to be thought of as the pesticide guy."
Like it or not, Winchester, medical director of the Franciscan St. Francis Health Neonatal Intensive Care unit, is gaining a reputation for his research.
When he arrived from New Hampshire in 2001, Winchester was perplexed by the high number of premature births and birth defects in the infant population in central Indiana. When he started trying to find out why, his most startling discovery was that no one seemed to be paying much attention.
The Indiana State Department of Health wasn't even counting the incidents of birth defects (that has changed since his work started). And the availability and reliability of data elsewhere was spotty, but Winchester persevered and found what he suspected might be the case: Babies conceived April through July, when the presence of pesticides in air and water is greatest, were most likely to be born with birth defects.
"The correlation was true across the country," he said, and Atrazine and nitrates were the most commonly found pollutants.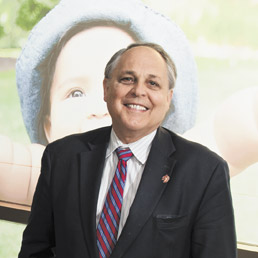 Paul Winchester, M.D. (IBJ Photo/Eric Learned)
Winchester just completed a study of premature births using data from California, which for 14 years had been tracking pesticide use by county. What he found was that the shortest pregnancies occurred in the highest pesticide counties and when conception happened in peak pesticide months.
Though the evidence he's found so far is compelling, Winchester and colleagues across the country are still doing research.
"I'm not willing to say that I've found a cause. We're still trying to get better data. We owe it to everyone to get it right."
Winchester's next project is to collaborate with Michael Skinner, a professor of biological sciences at Washington State University, on research funded by a $295,000 grant from The Gerber Foundation. The grant, awarded to Franciscan St. Francis Health, will fund research into whether pesticide exposure in pregnancy causes DNA imprinting that can cause health issues over multiple generations.
For Winchester, the research he does is just another path toward the only outcome he really cares about: healthy babies.
No one appreciates that more than the parents of the small patients he tends to. Jessica Butts, the mother of twins who were patients in the Franciscan St. Francis Health NICU, said Winchester "provided reassurance and hope when it was most needed.
"Dr. Winchester took the time to sit and talk with me and my husband, giving us information, sharing concerns and letting us vent our frustrations. He never rushed us and always respected our input and concerns as parents," Butts said.
His enthusiasm for babies is unceasing, said his colleagues.
"His compassion and consistent readiness to help the smallest and most helpless of patients set him apart from other doctors," they said in nominating him for Health Care Heroes.•
 
Please enable JavaScript to view this content.