Finalist – Non-physician
Heike M. Minnich, Co-director of International Adoption Program, Riley Hospital for Children at IU Health
 The children Hoosiers adopt from foreign countries come from around the globe. China, Ukraine and Hungary. Latvia, Ethiopia and Haiti. They travel thousands of miles to get here, but the baggage they carry into Heike Minnich's office at Indiana University Health's Riley Hospital for Children is mostly invisible.
"Most of the children we see have had a very, very tough background," said Minnich, a child psychologist and co-director of the International Adoption Program at Riley. Some children have been victims of sex or labor trafficking; others have been homeless. Many have lived in multiple orphanages in their short lives.
Minnich's goal is to meet the complex mental health needs of the children and help them and their new families make their adoption a success.
Her dedication has transformed the international adoption program at Riley. It doesn't get involved in the adoptions themselves, but offers pre- and post-adoption consultation and counseling based on referrals from pediatricians, adoption agencies, school systems and families from across the state who seek the program's help.
Minnich helped transform the program from its roots, which, like many such programs, were in the management of infectious diseases. Children who came from foreign lands were tested for diseases and immunized, but that was the extent of their service.
Now, it's more common for groups that deal with foreign adoptions to offer mental health assessments, but Riley's program stands out for offering a level of mental health service that's hard to find most places.
"I searched and searched for help in dealing with the severe issues that we were facing," said one mother who had sought counseling for her adopted son, whose outbursts were putting a strain on her marriage.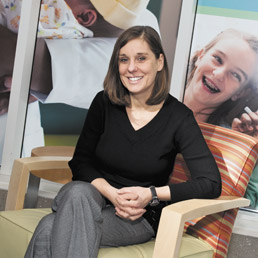 Heike M. Minnich (IBJ Photo/Eric Learned)
"My husband and I have received the help we so desperately needed so that, in turn, we know how to best help" their son, she said.
In the past five years, there have been 85,000 foreign adoptions in the United States, 500 of them in Indiana. There are no solid figures on how many of those adoptions fail, but a recent investigation by the Reuters news service estimated that more than 24,000 foreign adoptees are no longer with the parents who brought them to the United States.
That's precisely the outcome Minnich works hard to prevent.
"She is specifically serving families who have difficulty finding practitioners with the expertise to understand what it takes to make behavioral progress with children who are dealing with complex problems," said Dr. Abigail Klemsz, director of developmental pediatrics at Riley.
The need is even greater now than when Minnich came to Riley in 2004 and transformed the program. In the last seven years, it's become harder to adopt a foreign infant.
"We're seeing an increase in the ages of the children and in their special medical needs," said Minnich, who says most of the kids are 2 to 15 years old.
Minnich's best advice to parents is to not ignore red flags or trauma symptoms, hoping the problems will resolve themselves. Sometimes it's hard for parents to admit problems to an agency that has seen them through the adoption process. Riley's program, with its mix of medical and psychiatric services, is a place parents can come for help without judgment.•
Please enable JavaScript to view this content.