Finalist – Non-physician
Carl T. Sundberg, Ph.D., BCBA-D, Chief Clinician & President, Behavior Analysis Center for Autism
 Carl Sundberg got his start helping autistic children communicate and assimilate before most people had ever heard of autism.
Sundberg was a high school kid in Michigan and his older brother was studying behavioral analysis at Western Michigan University. Carl started reading one of his brother's textbooks and was hooked. While he was following in his brother's footsteps—studying at Western Michigan and learning how to help impaired children communicate—autism was racing toward the mainstream.
The opening line of a paper Sundberg wrote in the late 1980s was, "Autism affects one in 10,000 children." Now, he said, the number is one in 88 children.
The reason for the rise in the neurological disorder, which creates a communications and learning barrier for those who have it, is hard to pin down. Explanations vary. Surely part of the rise has to do with more awareness, Sundberg said, but environmental factors such as diet and the quality of the water supply are also thought to contribute.
Whatever the reason, Sundberg has devoted his career to helping those who have the disorder, and he's become a hero to many parents who simply want their child to be able to learn and function in society.
In 2009, Sundberg and his wife, Devon, started the Behavior Analysis Center for Autism, which now has two locations in Fishers, one in Zionsville and one in Elkhart. For about a decade before he started BACA, Sundberg was consulting for schools and doing home programs that involved visiting a family once a month.
"I would come in and talk to a parent and try to impress upon them the difficulty of the hard work and the teaching that is required," he said. Sundberg always felt bad leaving and telling his clients he'd see them in a month, then he'd be disappointed when he returned and discovered a child hadn't made as much progress as he'd hoped.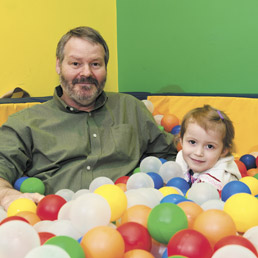 Carl T. Sundberg (IBJ Photo/Eric Learned)
"That's when I realized this wasn't enough," he said. And it's when he started thinking about starting the centers.
The centers employ about 130 therapists who work full time with a patient population of about 110. BACA helps kids of all ages, but the preschool years are ideal, because BACA's therapists can help children catch up with their peers and start their school careers on an even keel.
"If we catch you really early, we're trying to get you caught up so you can go to school," Sundberg said. Staff members are so devoted to the cause that they bring in their own children to participate in a class that mixes autistic and non-autistic 3- to 5-year-olds.
"Our family quality of life has improved significantly," wrote one mother about her son's experience with BACA. "My husband and I started to feel 'normal' when we went out as a family to restaurants, shops, playgrounds, the library, the pool, etc.," noting that her son, who is now 14, gained about two years of development in 2-1/2 years by working with Sundberg and his staff.
Another couple with an autistic son wrote: "Dr. Sundberg and his staff at the BACA are experts at helping these children gain the skills they need to learn because of his emphasis on training, continuing education and dedication to seeing individuals with autism live the best and most independent lives possible."•
Please enable JavaScript to view this content.