Finalist – Volunteer
Suzie Hedrick, RN, Pediatric Dialysis Unit,
Riley Hospital for Children at IU Health

To appreciate Suzie Hedrick's dedication to the National Kidney Foundation of Indiana's kidney camp for kids, all you need to know is that a few years ago she showed up at camp a day after suffering a concussion, a broken wrist and a broken finger.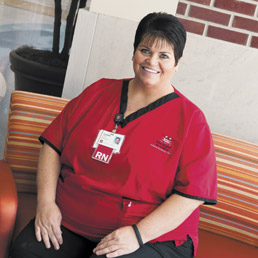 Suzie Hedrick (IBJ Photo/Eric Learned)
Her injuries came from a fall that happened while she was loading camp supplies into a rental truck. After she regained consciousness, but before an ambulance took her away, Hedrick remembers saying to those who rushed to her aid, "I have to get to camp."
The camp has been a priority for her since she helped the National Kidney Foundation's local chapter start it 10 years ago. Hedrick, 50, managed a fast food restaurant for 13 years after graduating from high school, but she eventually decided to follow her heart and go to school to become a nurse. That led her to Indiana University Health's Riley Hospital for Children, where she's worked in the pediatric dialysis unit for 14 years.
Most of the kids Hedrick and her co-workers take care of have end-stage renal disease, which means their only hope is a transplant. It also means they spend a lot of time in dialysis, enough to form a strong bond with the nurses in the unit.
Hedrick's gift to them is the camp.
"It gives them an experience that other kids are allowed to have," she said. The free, five-day, four-night camp at Camp Tecumseh in Brookston offers all the things, including homesickness and a few tears now and then, that kids at camp have experienced for generations.
But the camp, which started with seven kids and has grown to almost 40, deals with medical issues more severe than scraped knees and sprained ankles. Hedrick and a co-coordinator from the Kidney Foundation spend hours lining up medical supplies, getting doctor approvals and making sure they have all the equipment, forms and staffing they need to care for the kids while they're away from Riley and their families.
The camp requires 25 to 30 adult volunteers, some of whom work in the unit at Riley. Pharmacy students from Manchester University volunteer, too, as do dietitians, social workers, other hospital staff and even some adult patients. Hedrick and other nurses from Riley use vacation time to staff the camp. Others give up or rearrange plans to have time off so they can cover at Riley for those who volunteer.
Though Hedrick spends hours preparing for the medical needs of the kids, she's also in on the fun, coming up with an annual theme and planning a dance and the other activities available to campers. Last year's theme was "Up, up and away," and Hedrick arranged for hot-air-balloon rides for the kids. An insurance problem prevented the rides from happening, but there were demonstrations and plenty of fun interaction with the grounded balloon, Hedrick said.
"It is safe to say that, without Suzie's leadership, this one-of-a-kind camp might not exist," said Nicki Howard, public health coordinator for the local National Kidney Foundation chapter.
Fortunately for the kids, there doesn't seem to be an end to Hedrick's devotion to the camp.
"I can't see myself not doing it," she said. The camp and her day job at Riley working with young kidney patients are more than a passion, she said. "It's my heartbeat."•
Please enable JavaScript to view this content.