Fort Collins, Provo, Raleigh, Durham and Chapel Hill are household names in tech circles—cities known for birthing startup companies with well-paying jobs.

Each has key elements for entrepreneurship—existing high-tech business, venture capital, incubators.

Each city also boasts perhaps the greatest element of all: major research universities that churn out dozens, if not hundreds, of patents every year for the new enterprises to license.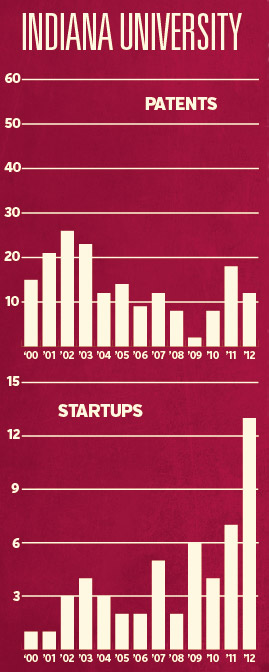 West Lafayette and Bloomington are seldom mentioned in the same breath as the major tech havens, but that could begin to change if Purdue and Indiana universities stay on current trajectories.

Unbelievable as it would have sounded even a few years ago, Purdue and IU now both produce more startup companies annually than most of the schools at the heart of the famed entrepreneurial hubs in Colorado, Utah and North Carolina.

Purdue's research, for instance, led to an average of almost eight new companies a year from 2000 to 2012, according to the Association of University Technology Managers.

The research universities surrounding Research Triangle Park in North Carolina—North Carolina, North Carolina State and Duke—produced an average of 4.5.

The trend in Indiana is still infantile. And despite the relatively high number of startups, few have yet to make a lot of money.

But after years of criticism from the business community, Purdue and IU finally are showing progress toward a culture of commercializing technology.

"In the past seven, eight, 10 years, have we made strides? Without a doubt," said Steve Beck, an investor who has worked for decades on statewide efforts to get universities to patent research and foster startups.

"But you've got to walk before you run."

Indiana got serious about university tech transfer in the 1990s.

Not only had the state lost swaths of manufacturing jobs during recessions, but few tech companies were rising to fill the gaps with well-paying white collar jobs.

To diversify the economy, leaders in both the public and private sectors ripped strategies from playbooks in other states and turned to universities for the ongoing stream of research.

That knowledge, until then largely sitting on shelves in scholarly journal articles and white papers, contained innovations that could be turned into products and services and breathe life into new companies.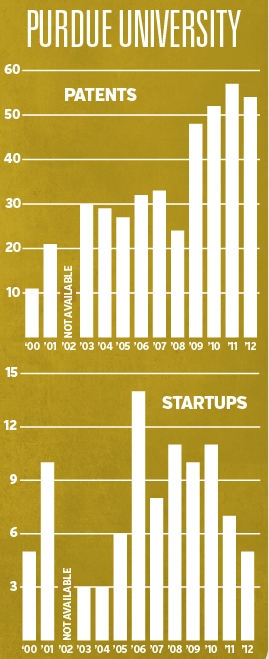 "It was pretty clear that Indiana was going through a major transition," recalled Martin Jischke, president of Purdue from 2000 to 2007. "One of the greatest challenges for Indiana was creating jobs that would be attractive to its college graduates."

While at the helm of the state's land-grant university, Jischke focused much of his attention on converting more university-based research into business ideas.

Purdue that year received 11 U.S. patents for its research. The figure grew to 33 the year he stepped down, and in 2012, the most recent year for which data was available, the AUTM recorded 54 patents.

Those patents—more than 400 total since 2000—have led to almost 100 new companies, despite slight dips in the past couple of years.


Indiana University, meanwhile, reported one startup in 2000 versus 13 in 2012.

The schools are a far cry from such powerhouses as Massachusetts Institute of Technology, Stanford University and even the University of Wisconsin.

But the gains in recent years, experts say, show that technology transfer is finally working.

"I think some of those schools have more of a tradition doing that," said Tony Armstrong, president and CEO of Indiana University Research & Technology Corp., the not-for-profit tasked with streamlining research into the private sector. "They've done that for a long time. There's just a lot more happening.

"We're doing a much better job than in the '90s."

Slow progress

It wasn't always easy, according to Beck, who ran the not-for-profit entrepreneurship group Indiana Venture Center from 2003 to 2008.

"Seventy percent of what we did was identify technology from schools and pair it with entrepreneurs that might be able to use the technology," he said.

Academia just did not have the mind-set for it, at least at first.

Faculty would receive research grants and start companies around their academic work. But their main interests were getting enough financial support to keep funding their research—not growing their businesses.

"They never had any intent on commercializing" their research, Beck said. "That's perfectly fine. There's nothing wrong with that. But let's find the companies where the professor was an entrepreneur and was really serious about taking the product to market."

Many universities, including Indiana's, in the 1980s and 1990s didn't think about patents and startups, so they didn't support faculty with resources.

"I think Purdue had not yet developed the kind of policy framework, the institutional guidelines that would help people understand what was acceptable," Jischke said.

Then there was the risk factor. The schools that succeeded at tech transfer had "safety nets" for their professors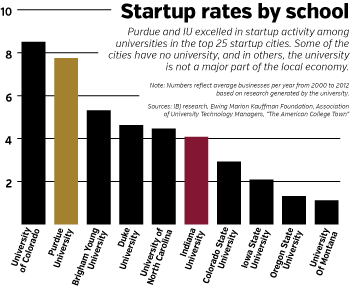 Beck said "Purdue, or the local schools, would say, 'Dear professor, if you're going to step out on your own, we'll give you a little support. But if you fail, you'll fall flat on your face and too bad.'

"Stanford said, 'We'll help you—give you space, maybe some money, match you with top-notch MBA people to help on the business side.'"

Deep spadework

Jischke was quick to credit his predecessor, Steven Beering, and his administration with setting up Purdue to embrace technology transfer and play a more critical role in the state's economic development efforts.

It was Jischke's job to see that effort through. The trustees made that expectation clear when considering him for president, he said.

One of the first major projects after his arrival was the 2001 launch of Purdue's Discovery Park, the 40-acre research hub on the main campus in West Lafayette. As of June 2013, 57 companies started with the center's assistance.

Separately, Purdue's other research parks and business incubators all grew substantially during Jischke's time as president, including new offices in Merrillville and New Albany.

The university created a startup guide for faculty and standardized its licensing process to reduce bureaucracy, noted Dan Hasler, who was recruited by current Purdue President Mitch Daniels to lead the Purdue Research Foundation, which among other tasks encourages tech transfer.

Indiana University started taking a more serious look at commercializing research at the same time Purdue ramped up its effort.


The school in 1997 created an organization to help professors patent their research, but it wasn't until 2003 that it opened an incubator to get startups off the ground.

IURTC's Armstrong worked for the predecessor organization until 2000 before moving to another IU office and then boomeranging back to IURTC in 2008. The university by then had a very different attitude toward commercialization.

"Just from then until now, we've kind of transformed the way we've operated and [we're] thinking about new tools to try to put together to help faculty," Armstrong said.

Universities are using one of their long-time key resources—grants—to stoke the commercialization activity, Purdue and IU officials explained during a recent IBJ Power Breakfast event.

"On the university side, we are often trying to help faculty and students who are starting very early stage technologies, turning them into companies with non-grant funding," said Marie Kerbeshian, vice president of technology commercialization at IURTC.

"And for years we have been hearing from the grant sources, the federal granting agencies [about] their interest in translational research, moving things forward, but to be honest, that often doesn't come back down to reality. But we have just begun to see that change."

Greg Deason, executive director of the Purdue Foundry, a program for helping startups, added that his organization is working more to help faculty get through the red-tape that accompanies grants. Those grants can fund the research that later produces companies.

Students play larger role

One of the biggest differences Armstrong noticed upon his return to IURTC was students' showing much more interest in starting businesses.

He credited the change to the Great Recession, which began around the time he returned. Many wanted to "control their destiny."

"Even the ones who went through [college] programs and got jobs at big companies, they were let go still," Armstrong recalled.

One prominent force pushing startups at IU: In 2011, the university unveiled the Building Entrepreneurs in Software and Technology competition. Seniors and graduate students with software- or tech-oriented business ideas can compete for a top prize of $100,000 in seed money.

Purdue, meanwhile, changed its policies in the hope of keeping more of its students—and their business ideas—in the state.

Last year, the university began letting students own their intellectual property rather than being forced to relinquish it to the school.

"If you're a student, we're going to let you own your own IP because we want it here," said Hasler, who was commerce secretary during Daniels' administration as governor.

Long way to go

Technology transfer experts—inside and outside of the universities—agree that a lot of work remains for the concept to achieve their hopes.

The state's schools hold their own against universities at the core of economic activity in entrepreneurial hotbeds such as the Research Triangle or Colorado.

But plenty of other universities, regardless of where they are, still outperform IU or Purdue by far. Even within Big Ten Conference schools, Indiana's schools aren't at the top.

Looking at startup numbers from 2007 to 2012, Purdue ranked third behind the University of Illinois and University of Michigan. IU was fifth.

And the income generated from patents licensed to companies falls even lower.

Purdue's patents produced $22.2 million in gross income from 2007 to 2012 compared to a university-wide operating budget of $2.3 billion for just the current fiscal year.

IU earned a little more over that period, $43.2 million, but schools such as Wisconsin pulled in $264 million.

Yet, universities like Purdue and IU push for smashing home runs like Netscape, the major Web browser invented in the 1990s at the University of Illinois.

Even with the better startup rates—the way high-tech jobs are created in Indiana—the university officers say they need new ways to encourage the activity. What those activities are, they are hard-pressed to say.

"Whatever it is, it's not good enough," Purdue's Hasler said. "Whatever the numbers are, my boss would say, 'OK, let's double that.'"•