The south side is beginning to receive at least some attention from grocery players, including specialty ones that are much more prevalent to the north.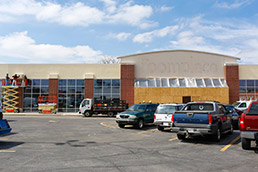 Fresh Thyme is renovating a former RoomPlace store for a summer opening. (IBJ photo/Aaron P. Bernstein)
Fresh Thyme Farmers Market, a Phoenix-based startup, plans to open this summer in space formerly occupied by The RoomPlace on U.S. 31 north of Greenwood Park Mall. And Fletcher, N.C.-based Earth Fare, which has stores in Carmel and Noblesville, has signed a lease to occupy the former Office Max location nearly across the street from the rival Fresh Thyme store.

On top of that, Cincinnati-based The Kroger Co. plans to build two new stores, also on the south side—on the northeast corners of the intersections of Emerson Avenue and Thompson Road and Emerson Avenue and County Line Road.

Though they're not specialty groceries, the 123,000-square-foot stores will represent the chain's Marketplace concept, a debut for Kroger in Indianapolis. The new stores will replace older Kroger stores across the street that are just half the size.

Mark Perlstein, a principal at Sitehawk Retail Real Estate, said the specialty grocers about to dip their toes in the south-side waters simply are filling a void.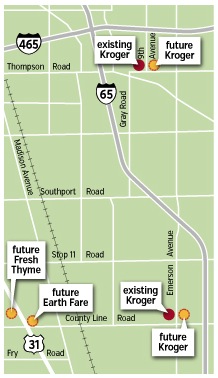 "The north side is really cannibalized, and there's a great deal of competition among the grocery stores," he said. "None of the specialty grocers have looked at the south side."

That includes Pasadena, Calif.-based Trader Joe's, which Perlstein represents. He said his client has scouted the south, but at this time it's not a priority.

Whole Foods, another major player in the market, is watching the developments but so far has not made a decision, said Bryan Chandler, a local broker who represents the company.

The specialty grocery segment is becoming more competitive in the Indianapolis area with the entry of newcomers such as Fresh Thyme and Giant Eagle.

Fresh Thyme also plans to open another store this summer, at 4225 E. 82nd St. in the Lake Clearwater area, and one in 2015 at 2342 W. 86th St. in space now occupied by Kahn's Fine Wines & Spirits near North Willow Farms.

In January, Pittsburgh-based Giant Eagle announced it will build a Market District specialty grocery at The Bridges development on 116th Street between Illinois Street and Springmill Road in Carmel. The chain plans six stores in the market but has not revealed other locations.

Even local veteran Whole Foods, which has stores at 1300 E. 86th St. in Nora and Clay Terrace in Carmel, has plans for at least two more locations. They would be part of Browning Investments Inc.'s $30 million mixed-use development in Broad Ripple and Flaherty & Collins Properties' $81 million mixed-use project downtown on part of the former Market Square Arena site.

"All of a sudden, it's becoming very competitive," said Frank Swiss, the principal broker at Swissco Real Estate. He represents The Fresh Market, which has locations on North College Avenue in Indianapolis, East 146th Street in Carmel, and 116th Street and Cumberland Road in Fishers.

The south side, however, has been largely ignored—until now.

Much of it has to do with simple demographics, Sitehawk's Perlstein said.

"If you break down the north side and the south side, and you start comparing household incomes and education levels," he said, "there's definitely more prominence on the north side than the south side."

Even so, that doesn't mean the south side can't be profitable for the stores.

Greg Allen, a local developer who owns several parcels of land on the south side, including the one Kroger purchased for its new store at County Line and Emerson, said residents should support the new stores.

"We haven't seen much change over, really, many, many years," he said of the south side. "It's certainly something that the public wants, and it's growing."

Kroger's $40M investment

For Kroger, it's investing a total of $40 million to build the two stores that the company is trotting out to keep pace in the rapidly changing grocery industry.

Companies nowadays need to remodel stores every three to eight years to stay competitive, Kroger spokesman John Elliott said.

One of the stores that will be replaced by a newer Marketplace, at County Line and Emerson, was built in 2001. It's company-owned and likely will be offered for sale once it closes.

The other, at Emerson and Thompson, opened in 1993. Kroger leases the space and will work out an arrangement with the landlord regarding the short time that will remain on the lease after it closes.

The new Marketplace stores are expected to open in the second half of 2015. Construction should start this summer.

The company has two Marketplace stores in Indiana, both in Fort Wayne. The relatively new superstores aim to provide customers with a one-stop shopping option. In addition to a full-service grocery and pharmacy, offerings run the gamut from furniture to electronics to toys.

Although the merchandise mix is still being finalized, Elliott said the new stores will include a Fred Meyer Jewelers outlet.

Plans also call for a larger, "enhanced" pharmacy with private consultation space, he said, and a Wi-Fi-enabled café next to the deli. Both properties will include fuel centers.

A growing population led Kroger to choose the south side to unveil its Marketplace concept in Indianapolis.

"There's an opportunity there," he said. "We see some pretty dynamic economic activity, particularly rooftops."

Kroger also wants to open a supercenter in Fishers but so far is receiving a chilly reception from city officials.

Members of the Fishers Town Council earlier this month tabled a request to annex the 6.8 acres of land Kroger has assembled for the project just west of its smaller grocery at 116th Street and Olio Road.•