With a mix of money, moxie and missionary zeal, Zeke Turner is driving the Indiana nursing home industry crazy.
The 36-year-old CEO of Mainstreet Property Group LLC—who frequently sports a boyish grin and a bold-colored dress shirt, but rarely dons a tie—said he's "just getting started" in transforming the staid nursing home industry.
"It's an industry in desperate need of innovation," Turner said.
So this year, even as his more-experienced competitors lobbied the Legislature to rein in Mainstreet's construction binge, Turner was cooking up a slew of new businesses that he said could grow Mainstreet's work force from 29 now to 7,500 within five years.

Turner
Those businesses include a nursing home operations arm, a medical transport company, pharmacy and therapy businesses, and even a line of long-term-care insurance products.
Now that the construction moratorium was shot down at the last minute—partly thanks to Mainstreet's aggressive investment plans and partly by the influence of Turner's father, the No. 2 Republican in the Indiana House of Representatives—Turner can charge full speed ahead.
He shows no aversion to risk. When he was a student at Taylor University, Turner drove his minivan through the night to Omaha, Neb., to demand a meeting with legendary investor Warren Buffett. He didn't get on Buffett's calendar, but he did score an invitation to Buffett's annual shareholder meeting.
Turner met his wife, Milissa, by introducing himself after she and her sisters performed a concert at a Miss Indiana pageant.
And he has fueled his business growth with more than $400 million in debt.
But Turner thrives on growth. He and Milissa have six kids, age 8 and under, whom they home-school. The kids sometimes bound into Mainstreet's offices calling out, "Dada!"
Turner, a serious Christian who starts each day by reading the Bible and praying, also sees the growth his company has enjoyed—and any setbacks—as "God's will." Both Turner and his wife speak of his vision to transform long-term care in purpose-driven terms.
"I don't freak out anymore about how big we're getting," Milissa said of her husband's businesses. "When he has a new idea and I see that look in his eye, I know that it's inspired by God."
Turner's two-year stint at a Wall Street investment bank, before he founded Mainstreet in 2002, also has helped.
In 2012, Turner launched a real estate investment trust and took it public on the Toronto stock exchange. HealthLease Properties REIT spent $372 million last year to acquire four facilities Mainstreet built—in addition to acquiring 25 existing facilities in eight states and Canada.
Political target
Mainstreet is by no means the only long-term-care company with high-quality facilities and access to ample financial resources. But Turner's combination of cash and willingness to build in competitors' back yards makes him concerning to Indiana's nursing home operators.
Mainstreet was the target of the attempt by nursing home groups to pass a five-year ban on new construction of skilled-nursing facilities. Renovations of existing facilities or construction of assisted-living facilities would have been allowed to continue.
The rationale for the moratorium was that Mainstreet's facilities—as well as those built recently by other companies—target the most lucrative patients: those covered by the federal Medicare program or by private insurance.
But that threatened to upset the long-standing practice of most nursing homes, which use the profits they make on those patients to offset losses incurred in the lion's share of their patients—those paid for by the Indiana Medicaid program.
Those policy arguments were drowned out by Mainstreet's promise of new jobs and massive investments via a slew of building projects. In the middle of the legislative session, Mainstreet announced it would open 24 facilities in Indiana, employing 3,000 people, if Indiana didn't enact a moratorium.
"It was a game changer, absolutely," said Rep. Ed Clere, R-New Albany, who chairs the public health committee in the Indiana House of Representatives, and supported the moratorium. Speaking of Mainstreet's expansion plans, Clere added, "I'm very skeptical of the numbers and the promises."
Still, at the end of the session, lawmakers had agreed on a two-year construction moratorium. But then Rep. Eric Turner, Zeke's father, told his fellow Republicans that the nursing home moratorium was a violation of free-market convictions.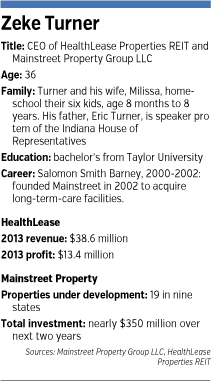 And that, according to multiple legislators who did not want to be quoted, turned the tide. Attempts to reach Eric Turner for comment were unsuccessful.
Zeke Turner scoffed at the notion that his father was the deciding factor in the back-room debate.
"It's a total breakdown of the political system if one guy can wield that much influence that he can decide which laws are passed and which aren't," said Zeke Turner, adding that he never asked his father to speak against the moratorium.
IPO unleashed growth
Dodging the moratorium in Indiana will, no doubt, help Mainstreet.
But because of HealthLease, Turner's business already goes far beyond the Indiana market. Just 23 percent of the beds in the 45 facilities owned by HealthLease are in Indiana.
Not only did HealthLease raise $110 million in 2012, but it raised another $308 million last year via two stock offerings, a bond sale and an expansion of its bank loans.
All of HealthLease's financials are reported in Canadian dollars. HealthLease provides Mainstreet a ready buyer whenever it completes one of its nursing homes.
HealthLease has even committed to invest $20 million in a $60 million equity fund being raised by Mainstreet to develop its next string of projects. HealthLease also paid Mainstreet nearly $1.7 million last year in management fees and paid out $2 million in dividends for the HealthLease shares held by Mainstreet and its affiliates.
"We view the total fees as reasonable relative to other management contracts which are frequently very favorable to the external manager," wrote Heather Kirk, an analyst that follows HealthLease for BMO Capital Markets, in a note to investors. HealthLease's stock is still hovering fairly close to its IPO price of $10 per share.
Turner's ability to find financing has been tied to his success from the beginning, said Randy Bufford, CEO of Louisville-based Trilogy Health Services Inc., which operates six of Mainstreet's nursing homes.
The first project the two companies collaborated on was in Lafayette. Turner had a bank pull its funding from a deal in late 2008, in the midst of the global credit crisis. Roughly six months passed, while Turner called more than 50 banks. But he finally found one willing to lend.
"He said, 'Just be patient. We're disappointed, but we're moving ahead," Bufford recalled. "We didn't know they'd have to knock on so many doors. But they did."
'Overbuilding'
It's been an unwritten rule for decades that nursing home operators would, for the most part, stay out of one another's territories. Turner has not only broken that rule—he's rubbed his competitors' faces in it.
Mainstreet opened two facilities this year—and both were within spitting distance of existing facilities operated by Warsaw-based Miller's Health Systems—one of the oldest and largest of the family-run nursing home companies that still dominate the industry here.
In Indianapolis' Castleton neighborhood, Mainstreet built just two doors down from an existing Miller's campus. And at the intersection of East 16th Street and Arlington Avenue, Mainstreet opened a facility in February literally across the street from a Miller's facility.
Mainstreet's in-your-face building didn't please Pat Boyle, CEO of Miller's Health Systems. But it's become so common it didn't surprise him, either.
"Of course we could wish they had chosen other locations, but this isn't the first time that we've experienced this situation," Boyle wrote in an email. He noted that, in 2007, Miller's signed a 15-year lease with Mainstreet to operate an older nursing home in Marion. Miller's invested heavily to improve it.
But then in 2009, Mainstreet built its own facility in Marion, and hired a California-based company to operate it.
"Now both of our skilled-nursing facilities are sitting just blocks apart from one another with low occupancy," Boyle wrote.
Mainstreet's competitors are skeptical the company will be able to replicate its success in the development business in the operation of nursing homes. Up until now, Mainstreet always leases the facilities it builds to operators, such as Miller's or to Louisville-based Trilogy Health Services.
Figuring out how to make money while also providing high-quality service is no easy task, said Dan Benson, chief operating officer of Indianapolis-based American Senior Communities LLC, which operates 59 skilled-nursing facilities in Indiana, more than any other company.
"They're definitely high-fliers and very confident," Benson said of Turner and his Mainstreet team. "I think when it comes to caring for seniors, it's more about servant leadership, and getting on your hands and knees."
On a mission
Turner, however, shrugs off those criticisms.
He thinks Mainstreet is creating an entirely new category of senior care that his competitors know little about. In a previous interview, Turner said the other nursing home providers are the "VHS" of long-term care.
Turner describes his own business as "health care hotels" (they feature coffee and sandwich shops, pubs and private rooms) or "transitional care"—facilities that focus on handling patients needed to rehabilitate after a hospital stay but with more serious needs than can be handled in home-based settings.
Nursing homes have been handling such patients for at least 25 years, since the federal Medicare program for seniors started motivating hospitals to send such patients to nursing homes rather than to rehabilitate them at the hospital.
But Turner thinks there are large numbers of patients discharged from hospitals and needing rehabilitation, but who are avoiding traditional nursing homes.
Many of those patients aren't covered by Medicare, Turner noted, but are on privately run Medicare Advantage plans. Also, many of them may be under 65, so they are covered by their employer's major medical insurance plans or, if they had a workplace injury, by Worker's Compensation insurance.
But to fully realize his "transitional care" vision, Turner said, he needs to extend innovation to all aspects of the process.
So he wants to get into the operations game himself. Mainstreet just hired a nursing home executive to launch its own operations company, which could employ up to 2,500 people in three or four years. David Stordy, a veteran of industry giants Golden LivingCenters, SunBridge Healthcare and Kindred Healthcare, started March 17.
Turner is also in discussions to do his first acquisition—of a transport business that would ferry patients between their homes and Mainstreet's facilities in "something nicer" than 15-passenger vans.
After that, Turner said, he plans to start or acquire pharmacy and therapy businesses to complement his nursing home operations business. And he has even designed products he thinks he can use to found a long-term-care insurance business by 2017.
"Our mission, somewhat audacious, is to transform the way care is delivered in the senior living space," Turner said.•
Please enable JavaScript to view this content.