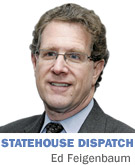 Sometimes a cigar is just a cigar. The fact that snow stopped falling, temperatures started climbing, and tulips tentatively inched up from the frozen Hoosier tundra just as lawmakers left town actually has no direct connection to the end of the 2014 legislative session.
While in some years it might seem as though frosty relations between the parties, chambers and governor had finally thawed, and spring was heralding a major change in outlook from a legislative session in which little of substance was accomplished, that's not the case this year.
As you've been reading in these pages over the past several weeks, much of a positive nature was accomplished. Gov. Mike Pence offered an extensive (albeit expensive) legislative agenda for a short session and, affording lawmakers the freedom to shape the route they preferred to take to his chosen destination, he found considerable success after December skepticism.
Some potentially divisive (but nonpartisan) issues were defeated, defused or defanged including the definition-of-marriage constitutional amendment; matters dealing with hunting and trespassing; and drug testing for welfare recipients.
Lawmakers banded together on a bipartisan and non-ideological basis to pass a preschool pilot program and study; release infrastructure funding dollars; approve long-sought criminal code revisions; cut additional taxes; and enact a far-reaching, first-of-its-kind privacy protection package.
Yet, as House Democratic Leader Scott Pelath, D-Michigan City, lamented—even before the dust settled—a number of opportunities were missed.
In any session, many issues will be just overlooked, afforded short shrift due to the agenda and process, or simply ignored because the majority sought not to address them. The 2014 session was no different.
But there will also be a new session dawning in the coming year that will offer opportunity for long-standing or recently enacted laws to be fine-tuned, issues to be identified and addressed for the first (or seemingly umpteenth) time, or emergency situations to be met with solutions.
Lawmakers will also engage in 2015 with another round of elections under their belts. May primary elections will likely further inculcate ideological purity on both sides, and in the November general election, voters will provide what one party or the other will inevitably claim is a mandate for change … or staying the course.
Emboldened (or chastised) by the results, lawmakers can be expected to confront one of the busiest agendas they have faced in quite some time when they return in January.
Look for major revisions to the state's venerable framework for alcohol regulation to be a lightning rod for lawmakers, lobbying groups and the public.
After two decades of a largely static gambling-law structure as the economy, technology and markets changed around us, casinos, the lottery and charitable gambling will be the focus of major potential changes. You may also see proposals changing marijuana laws take small steps toward alterations.
The definition of marriage amendment is, as of today, likely to return, and the stakes—ballot placement—will be high. The constitutional amendment on fishing, farming and hunting may be back, as well.
Drug testing of welfare recipients should return after falling two votes short of passage in a tied Senate. A challenge to common construction wages for public projects didn't emerge this session, but could serve as a potentially divisive issue for 2015.
Expect tweaks to the new privacy laws and further criminal code revisions as consequences of the laws are worked out in practice. Assorted firearm provisions will be in play, and education initiatives related to charter schools and school takeovers will be covered, as will issues involving local redevelopment, sports and tax-increment financing districts that split urban and rural lawmakers.
Of course, 2015 is a budget session, and the delicate task of forging a budget will be the basic responsibility and focus of solons. While the fiscal outlook will change before April 2015, you will see considerable juggling of new programs (think preschool) and health care financing concerns, while education spending needs shift to the forefront.
As you look ahead to a crowded 2015 agenda, here's your long-range legislative weather forecast: Expect another successful session—as well as one replete with missed opportunities.•
__________
Feigenbaum publishes Indiana Legislative Insight. He can be reached at edf@ingrouponline.com.
Please enable JavaScript to view this content.