An investor-relations firm founded by an Indianapolis native allegedly helped insiders of a biotech firm to hype its stock on financial sites, then sell their own shares on the bump.
The promotional pieces Michael McCarthy's The DreamTeam Group wrote about Oregon-based Galena Biopharma have sparked investor lawsuits and a Securities and Exchange Commission probe.
McCarthy is listed as managing director of the investor-relations firm, whose website lists its address as 7399 N. Shadeland Ave.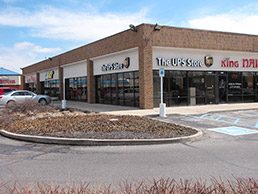 Investor relations firm The DreamTeam Group lists its address as 7399 N. Shadeland Ave. – the same as this UPS store.. (IBJ Photo/Chris O'Malley)
Funny thing, though—that's the location of a UPS store.
McCarthy's profile on LinkedIn says he lives in Scottsdale, Ariz., where in 2006 he started the firm QualityStocks, a newsletter about small-cap stocks.
McCarthy said he also assembled The DreamTeam, apparently an interrelated company that purportedly operates at the Shadeland Avenue location.
He did not return phone calls placed to his Indianapolis or Scottsdale offices.
The DreamTeam, wherever it is actually based, has written stories published by investor/financial sites such as SeekingAlpha and for a myriad of websites the firm hosts to promote stocks—such as Tout Sheet, Terrific Stocks and Green Car Stocks.
At least four lawsuits have been filed recently by Galena shareholders, following a report TheStreet.com published last February that alleged the company's executives paid McCarthy's firm $50,000 to promote its stock so the price would rise. They allegedly then cashed out $15 million of shares they owned.
Such a pump-and-dump scheme would be highly illegal. Stock promoting itself isn't necessarily verboten as long as promoters disclose their relationships with companies they are touting, so as not to mislead investors.
Following the piece about Galena in TheStreet, SeekingAlpha carried a piece by a former Deutsche Bank investment banker, Richard Pearson, who was enlisted by DreamTeam to write about stocks.
Pearson said he played along to learn about the practices used by McCarthy's DreamTeam firm. Often, the writers were represented as industry experts or analysts in the field of finance, giving them a veneer of credibility—when in fact they were hired by a company to promote its stock.
At least one shareholder suit alleges that Galena paid McCarthy's firm $50,000 for the promotional campaign.
The transaction is not listed on DreamTeam's disclosures on its website, although it does disclose compensation it and McCarthy's QualityStocks received from other clients over the years.
Some financial bloggers have posted a disclosure DreamTeam is said to have posted previously at its site and later removed. The disclosure indicates that Galena paid McCarthy's firm $50,000.
In a letter Galena sent shareholders following TheStreet piece, top managers admit they hired DreamTeam Group and that they divested shares last January. But the company downplays the connection between the two events and vows to fight the allegations.
Galena recently disclosed it is the subject of an SEC investigation and has named to its board former SEC attorney Irving Einhorn, who will help the company fight the pump-and-dump allegations.
The increased penetration of personal computers in the 1990s led to a wave of new stock-promoting schemes. In 1998, the SEC launched its first nationwide crackdown on stock promoters who used the Internet—fining 44 promoters who fraudulently recommended more than 235 small companies on the Web.
The rise of social media sites in more recent years has become another tool for sophisticated stock-promoting schemes, observers say.
"It has been increasing for the past two to three years, but the regulators are just starting to catch up to it," said former Indiana Securities Commissioner Mark Maddox, of Fishers-based Maddox Hargett & Caruso.
"This is a normal pattern—new bad conduct followed by a two- to three-year period before the regulators crack down," Maddox added.•
__________
Greg Andrews' Behind the News column will return next week.
Please enable JavaScript to view this content.