For a house to sell the day it hits the market is highly unusual. When the home is listed above $500,000, a price-point that weeds out many potential buyers, that's almost unheard of.
But it's occurring more and more in the Indianapolis area as a dwindling inventory of homes for sale is creating a phenomenon rarely seen—luxury residences selling at a clip equal to entry-level houses.
Causing the rarity is a rebounding housing market coupled with a severe shortage of new homes hitting the market, as builders have been slow to construct houses coming out of the recession.
Nearly 5,000 homes were built last year in the nine-county area, less than half the amount (13,200) constructed in 2005, before the housing bubble burst, according to the Builders Association of Greater Indianapolis.
"The demand is pretty high and the supply is pretty low," said Jim Litten, president of F.C. Tucker Co. Inc. "New construction has been severely curtailed."
Just ask Greg Cooper, a broker with Dick Richwine's Prudential Indiana Realty Group. He represented a buyer in Hamilton County who indeed pounced on a home listed for more than $500,000 the day it went on the market. The buyer paid full price.
"There were three more cars out in front of the house waiting to look at the property," Cooper recalled. "We wrote the offer in the house and didn't leave until it was accepted."
Re/Max Ability Plus statistics put the pace for pricier homes in perspective.
In the fourth quarter of 2013, a house priced higher than $500,000 took an average of 311 days to sell, a drop of 22 percent from the same period in 2011 and a whopping 33 percent decline from the fourth quarter of 2007, when the housing market began to collapse.
Homes priced lower than $500,000 took an average of 249 days to sell during the final quarter of 2013, also a 22-percent drop from the same period in 2011 but just an 18-percent decline from the fourth quarter of 2007.
Real estate agents attribute the strong demand for pricier houses to the limited number of homes on the market and an improving economy.
"We are lesser in inventory than we were a year ago and the buyers know it," Cooper said. "In some ZIP codes, we're 25 percent less than we were even a year ago. That's huge."
To be sure, the total number of houses on the market in February in the nine-county metropolitan area fell 12 percent, to 9,229, from a year earlier, according to F.C. Tucker.
In Hendricks County, where 723 houses were available last month, the inventory indeed was down 25 percent from February 2013.
Overall home sales in the metro market are off to a sluggish start this year mainly due to record snowfall and frigid temperatures. Through February, pending sales were down nearly 24 percent from the first two months in 2013.
But more expensive houses—those priced from $500,000 to $1 million—fared much better. Through the first two months of the year, 88 were pending compared with 69 in the year-ago period—a 27.5-percent increase.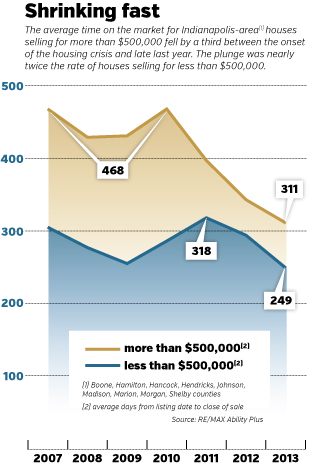 "If you go back to 2009 and 2010, when it was really ugly, the expensive market was basically non-existent," Litten said. "It appears now that there is more confidence with the high-end buyer than there has been in past years."
The trend seems to be playing out not only in Indianapolis but across the country.
In January, the number of U.S. homes selling for $500,000 to $750,000 increased 15 percent from a year earlier, compared with a 6-percent drop for houses in the $100,000 to $250,000 range, according to the National Association of Realtors.
Even houses priced in the very upper echelon, above $1 million, are experiencing more activity. Larry Rasmussen, a broker/owner of Century 21 Rasmussen Co. Inc. in Carmel, represented a buyer who purchased one within three days of its hitting the market.
"There were people standing in line to look at it," he said. "It wasn't a Walmart line, but a good line."
A dearth of new construction is helping to drive sales, as well. Of the 5,000 homes built last year, only 12 percent were priced above $425,000 and when the price jumps to $625,000, the amount drops to 4.5 percent, according to BAGI. The association defines the luxury category as $425,000 and up rather than $500,000 and over.
Part of the reason, too, is that mortgage rates are attractive. Jumbo rates, on loans higher than the conventional loan limit of $417,000, are closer to those of conventional loans, and buyers overall are more confident.
The upswing in sales is translating to rising home prices.
In February, the average price of a home in the metro area was $155,886, a 7.2-percent increase from February 2013, according to F.C. Tucker.
At Re/Max Ability Plus, owner Jimmy Dulin said his brokerage has earmarked the luxury-home market as one of its bigger sales opportunities for the year.
Other brokers are doing the same, and expect overall home sales to pick up once the weather breaks.
"It will be real interesting in the next few weeks," Litten at F.C. Tucker said. "It will be like someone turned on a fire hose. It's going to be that strong."•
Please enable JavaScript to view this content.