Think a 116-percent increase in profit last year, and a stock price up nearly 70 percent year-to-date, are a big deal for CNO Financial Group?

Sure are, but it was an exorcism of CNO's legacy Conseco business recently that's really put the proverbial color back in the faces of management and investors of late.

You remember Conseco Inc., the company created by salesman-extraordinaire Steve Hilbert in the 1980s that grew to become the nation's 27th-largest insurer?

The Carmel company got debt-heavy and couldn't be righted even by former General Electric Capital CEO Gary Wendt, who'd later take the helm. In 2002, Conseco filed for Chapter 11 bankruptcy, in what was the nation's third-largest bankruptcy as measured by assets.

Built on Conseco's ashes, CNO and its new management created its own line of insurance products aimed at middle-income America. But for years CNO has been tormented by devilish old Conseco products it no longer markets but has on its books. Many are volatile, interest-rate-sensitive products that in any given quarter tainted results from CNO's core lines.

So volatile and underperforming was this old business that CNO, back in 2010, dug a pit known as OCB (Other CNO Business) to contain the evil spirits of the legacy business.


Bonach
Since then, CNO has been methodically casting out the old business, under CEO-turned-exorcist Ed Bonach. He's all but declared victory over the imps, starting last month by unloading $550 million of an old block of long-term care to a reinsurer.

But the big victory came this month when CNO sold Conseco Life Insurance Co., which lost $5.1 million in 2013 and for which CNO had in place $3.4 billion in reserves.

This interest-sensitive block has been the most volatile among the OCB remnants.

In short order, CNO's total reserves that had been dedicated to OCB dropped from $5 billion to $961 million. CNO no longer will report on OCB as a segment.

The exorcism was years ahead of what some observers had expected.

"We're able to now finally focus going forward on our core business," Bonach said. "We're pleased with our progress in that relatively short period of time."

Earlier this month, he told analysts that the sale of Conseco Life "allows for a clean break from the legacy issues of the past."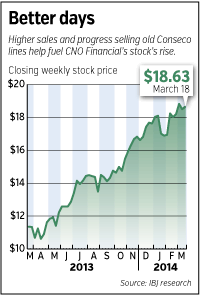 Citicorp analyst Erik J. Bass, in a recent report on CNO, said the two latest send-offs from OCB are "significant positives" for the company "as they boost return on equity and the company's cost of equity.

"We believe that ratings agencies will take a favorable view on the transaction, which should help further CNO's push for an investment-grade rating," Bass added.

Such ratings would give the company more flexibility in financing and debt matters and buoy its stock price.

Company executives earlier this month said the sale of Conseco Life should result in a net debt reduction of $69 million, when all is said and done.

CNO's core businesses are Bankers Life, Washington National and Colonial Penn.

In 2013, CNO's total sales rose 6 percent, to $416 million. Profits of $478 million, or $2.06 a share, were a big jump from $221 million, or 83 cents in 2012.

The rising stock price is to some degree attributable to CNO's buying back its own shares with fervor in recent years—$845 million repurchased since 2011. That includes $31 million in shares snapped up in the fourth quarter.

The company increased its dividend payout ratio to 20 percent, a year earlier than planned.

Not all was rosy in the fourth quarter. Although Colonial Penn sales rose 3 percent, that was below expectations. The Philadelphia-based unit sells life insurance primarily through television ads. In the latter half of 2013, competitors in the segment stepped up their own air time, which didn't help.•