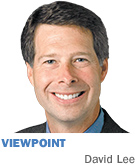 Lost in all the rhetoric about the Affordable Care Act—website glitches, recriminations and cries for "repeal and replace"—it's easy to forget the near-universal agreement that today's health care environment is fragmented and inefficient.
Think about this common interaction with the health care system.
You go to your regular doctor for a routine checkup.
"Knee's a little sore, Doc, but manageable most days," you say.
Your doc isn't so sure, and advises you to see a specialist who tells you the sore knee you've been treating with Advil and Ben-Gay is something more. Within a few weeks, you're scheduled for a trip to the hospital for surgery, followed by a few visits to the physical therapist and to another doctor for follow-up care.
Ideally, there's a lot of communication and coordination throughout this process. You might assume your surgeon has passed along instructions for post-op care to your primary care doctor and physical therapist. You might assume your primary care doctor told the surgeon you're allergic to penicillin.
Unfortunately, those exchanges don't always take place.
This lack of communication leads to inefficiency, which can result in unnecessary duplication of tests and procedures, possibly a return visit to the hospital, and often higher costs for the patient, the provider and the insurer.
To address this challenge, health insurers and health care providers across all types of care settings realize the need to collaborate more closely. And that's what is happening with the formation of accountable care organizations, like the one established last month between Anthem and Franciscan Alliance, one of the largest health systems in Indiana.
Here's how it works:
The "quarterback" in any accountable care organization is your primary care physician, the one who told you to get that knee checked out. This doctor is accountable for managing all aspects of your health—coordinating your medical care, monitoring you in between visits, and ensuring you receive necessary follow-up care.
The insurance company is like the offensive coordinator up in the booth. Health plans have good information about the "big picture" of your health care—they can see more of the field. They also can quickly deploy the right resources to support your "quarterback."
The accountable care organization is the whole team working behind the quarterback, using tools like electronic medical record systems to pinpoint opportunities to help patients get healthy and stay healthy.
The insurer pays the doctor for seeing you in the office, and now gives the ACO payment for coordinating and helping plan your care between visits. Research shows that better coordination and communication will lead to better health and fewer complications and hospitalizations. When that occurs, Anthem will reward the ACO by sharing the savings generated by better, more efficient care.
To be eligible for these shared savings, providers must meet quality performance goals established by nationally respected organizations.
What's the result of all this? Something bigger than just a touchdown:
You, the patient, receive higher-quality care from a well-coordinated team of health care professionals. Your employer sees less absenteeism and higher productivity. Doctors and hospitals can better use their resources—first and foremost their time—more efficiently, so that you aren't rushed through the system.
The debate on health care reform will likely continue for a long time. But stakeholders in Indiana's health care system are working together now to address the ongoing challenge of rising health care costs, while keeping high-quality care within reach for the people we serve across the state.•
__________
Lee is vice president for provider engagement and contracting at Anthem Blue Cross and Blue Shield in Indiana. Send comments on this column to ibjedit@ibj.com.
Please enable JavaScript to view this content.